Discover the Pinnacle of Luxury Living: Unveiling Miami's Premier Condo Developments of 2024
With over two decades of expertise in representing developments, our seasoned team is familiar with both developers and contracts. We are adept at negotiating the most advantageous deals.
No. 1
St. Regis Residences Miami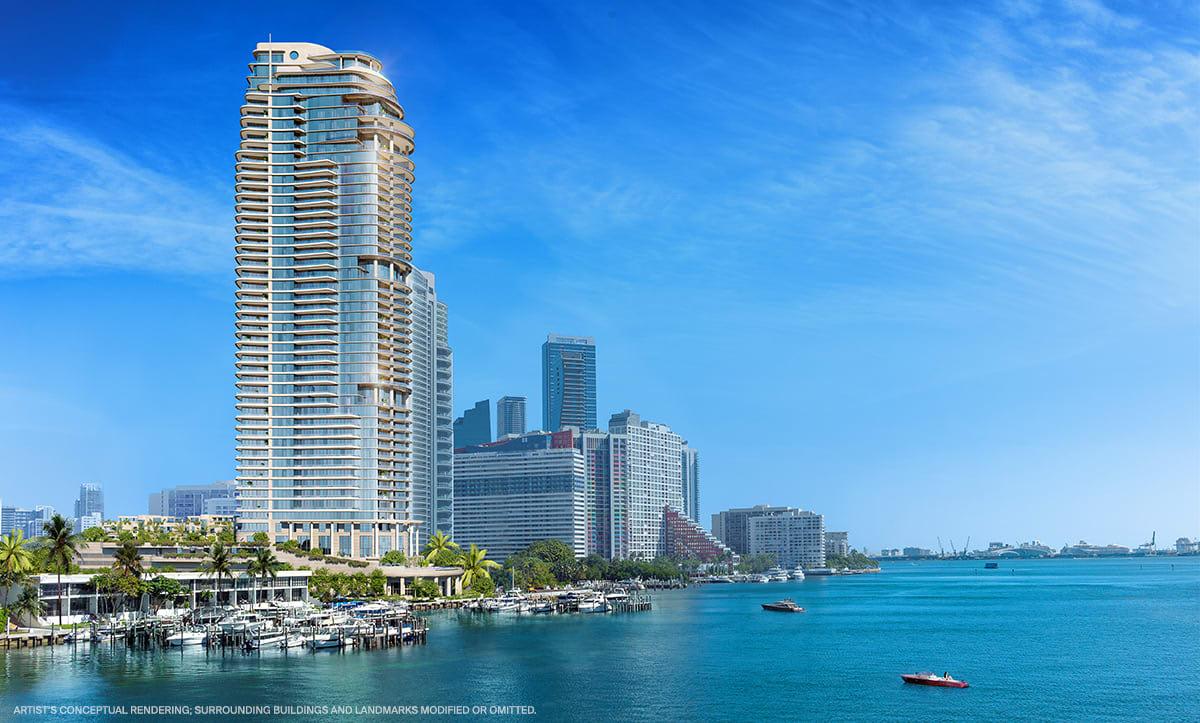 Offered from $4 MILLION
Situated along the beautiful coastline of South Brickell, with exquisite ocean views and an on-property private marina, The St. Regis Residences Miami is set to be a Miami landmark.
Boasting designs by world-renowned architect, Robert A.M. Stern Architects (RAMSA), every home will possess seamless and fluid open spaces with exceptional private terraces and expansive views. Amenities include indoor and outdoor pools, a private beach club, an on-property private marina, an exclusive fine-dining restaurant by Michelin-starred chef Fabio Trabocchi, St Regis spa, and St Regis cognac bar.
As South Florida continues growing into a nexus of design, culture, and luxury, St. Regis Residences Miami presents a unique opportunity to call one of the city's most beloved neighborhoods home.
The Anna Sherrill Team is the exclusive in-house sales team for the St. Regis Residences Miami, contact us at +1 (786) 853-8484, or at [email protected], for more information.
No. 2
The Residences at Mandarin Oriental, Miami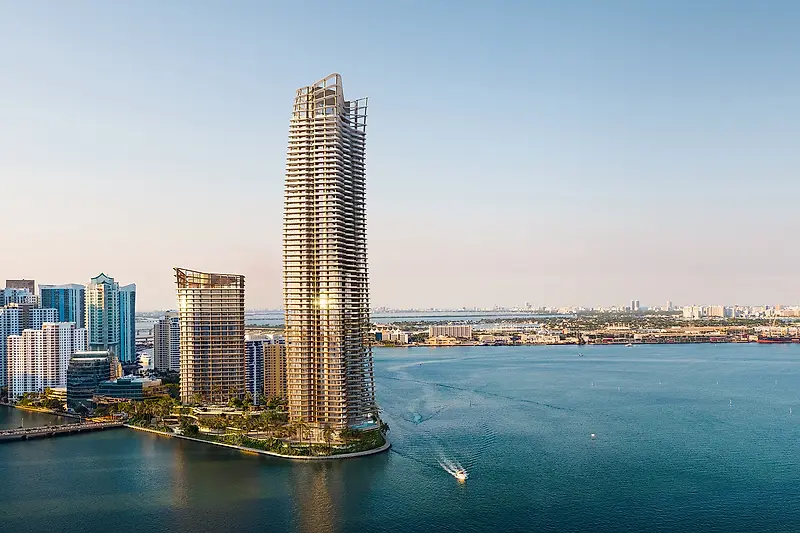 Sales will launch in late 2023, with prices starting at $3.5 MILLION.
'ONE ISLAND DRIVE' WITH TWO TOWERS DESIGNED BY KOHN PEDERSEN FOX, SET TO SOAR OVER 800 FEET ON BRICKELL KEY
This remarkable endeavor harmoniously integrates residential and hospitality services within a serene island setting, conveniently located near the vibrant downtown Miami. Boasting an enviable waterfront position, One Island Drive is poised to claim a prestigious spot becoming a prominent and distinguished addition to Miami's captivating skyline. Nestled at the southernmost tip of Brickell Key, One Island Drive finds its place within the meticulously crafted island community.
The primary tower, soaring impressively to a height surpassing 800 feet, is home to 'The Residences at Mandarin Oriental, Miami.' Embracing the daring essence of deconstructivist architecture, this tower exudes a captivating allure. Its exterior showcases a captivating interplay of subtle curves, resulting in a visually intricate aesthetic. The textured shell superstructure of the tower serves as an architectural marvel, with exposed columns and slabs creating a distinctive curvilinear silhouette. Adding to its visual impact on the skyline, the tower culminates in an undulating and punctuated skeletal crown. Within this tower reside The Residences, an exclusive collection of 220 private homes ranging from two to four bedrooms. These homes boast expansive floorplans of up to 4,700 square feet, with the crown jewels being two extraordinary duplex penthouses, sprawling over 6,000 square feet each.
Taking reservations for The Residences at Mandarin on Brickell, starting in December, contact us at +1 (786) 853-8484, or at [email protected], for more information.
No. 3
ASTON MARTIN RESIDENCES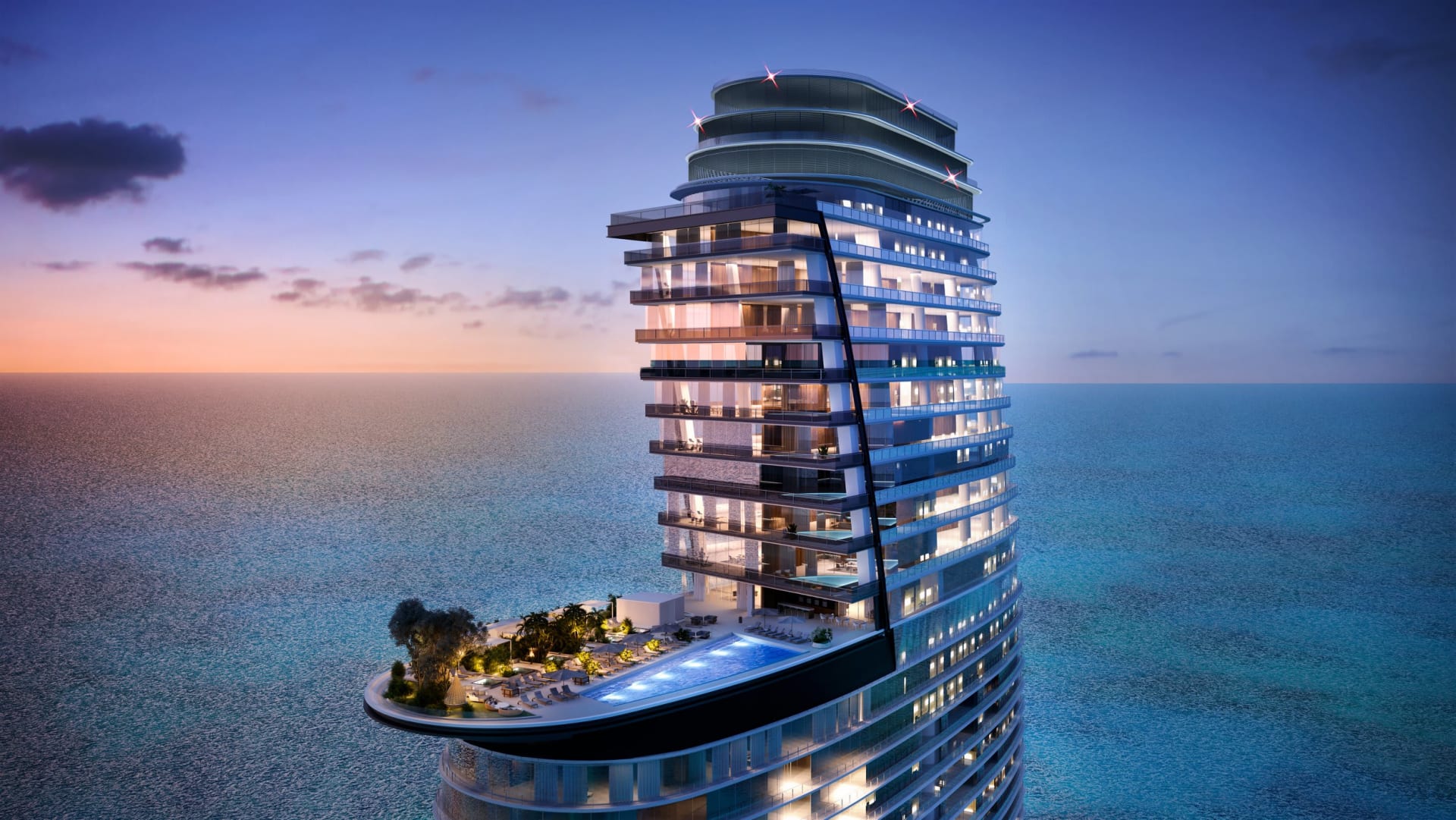 Superb Off-Market Opportunity at ASTON MARTING RESIDENCES
Delivering in 30-60 days.
Unique off-market sale at the Aston Martin Residences in Miami with a custom DB12 supercar.
Motivated seller!
Contact us at +1 (786) 853-8484, or at [email protected], for Off Market opportunities at the ASTON MARTIN Residences closing soon.
No. 4
THE SHORE CLUB COLLECTION, AUBERGE RESORT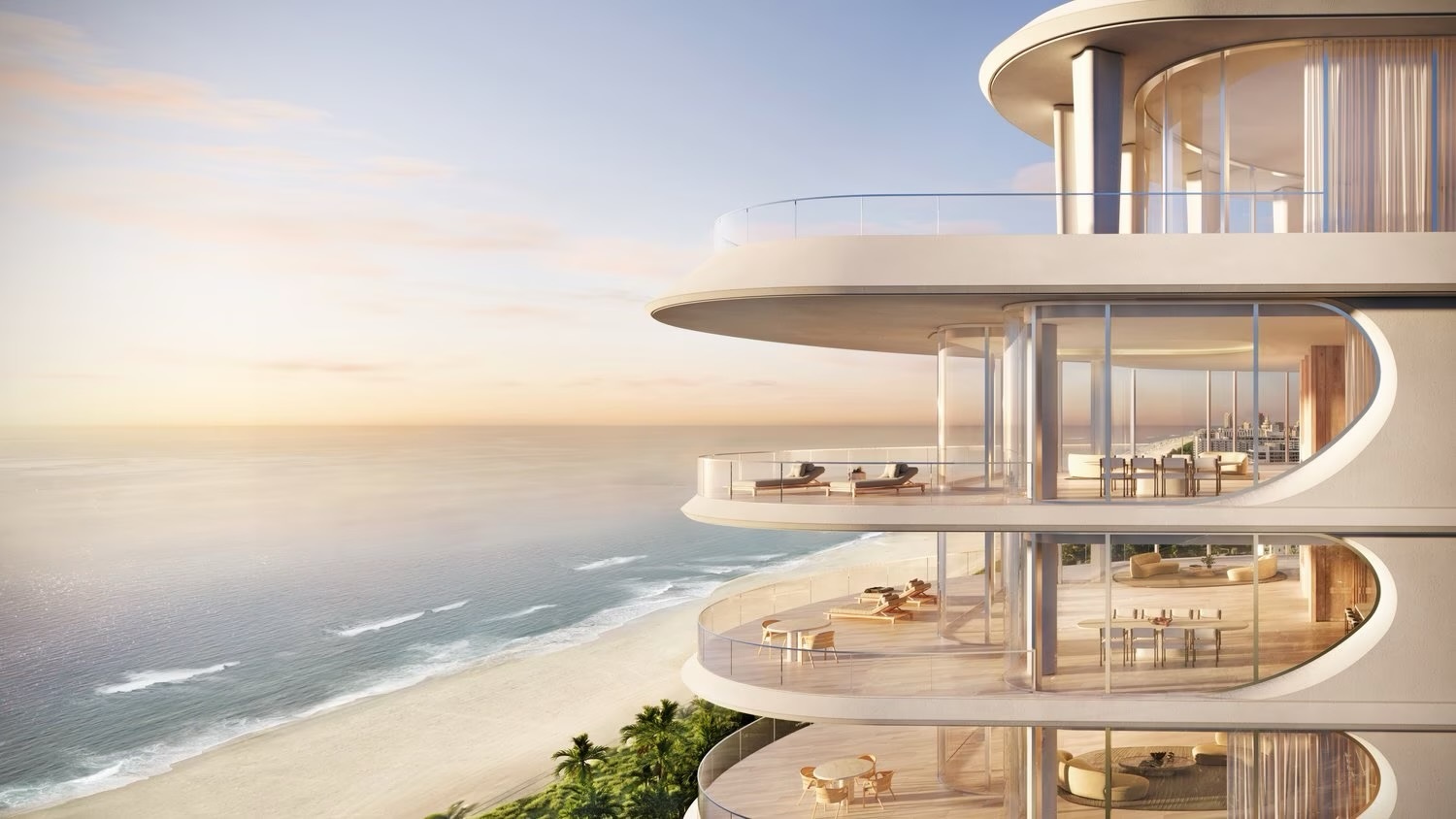 Offered from $6 MILLION
The Shore Club, a South Beach icon renowned for decades, is poised for a remarkable transformation into one of Miami's most opulent residential condo resorts.
This evolution will also include the addition of an Auberge-branded 75-room luxury hotel. Introducing The Shore Club Private Collection, an Auberge Resort featuring 49 exclusive residences located on 19th and Collins, elegantly crafted within an 18-story tower designed by the acclaimed architect Robert A.M. Stern.
These residences will vary in size, ranging from approximately 2,400 sq ft to 7,000 sq ft, with prices starting from $6 million and reaching up to $35 million.
No. 5
THE RALEIGH, A ROSEWOOD HOTEL & RESIDENCES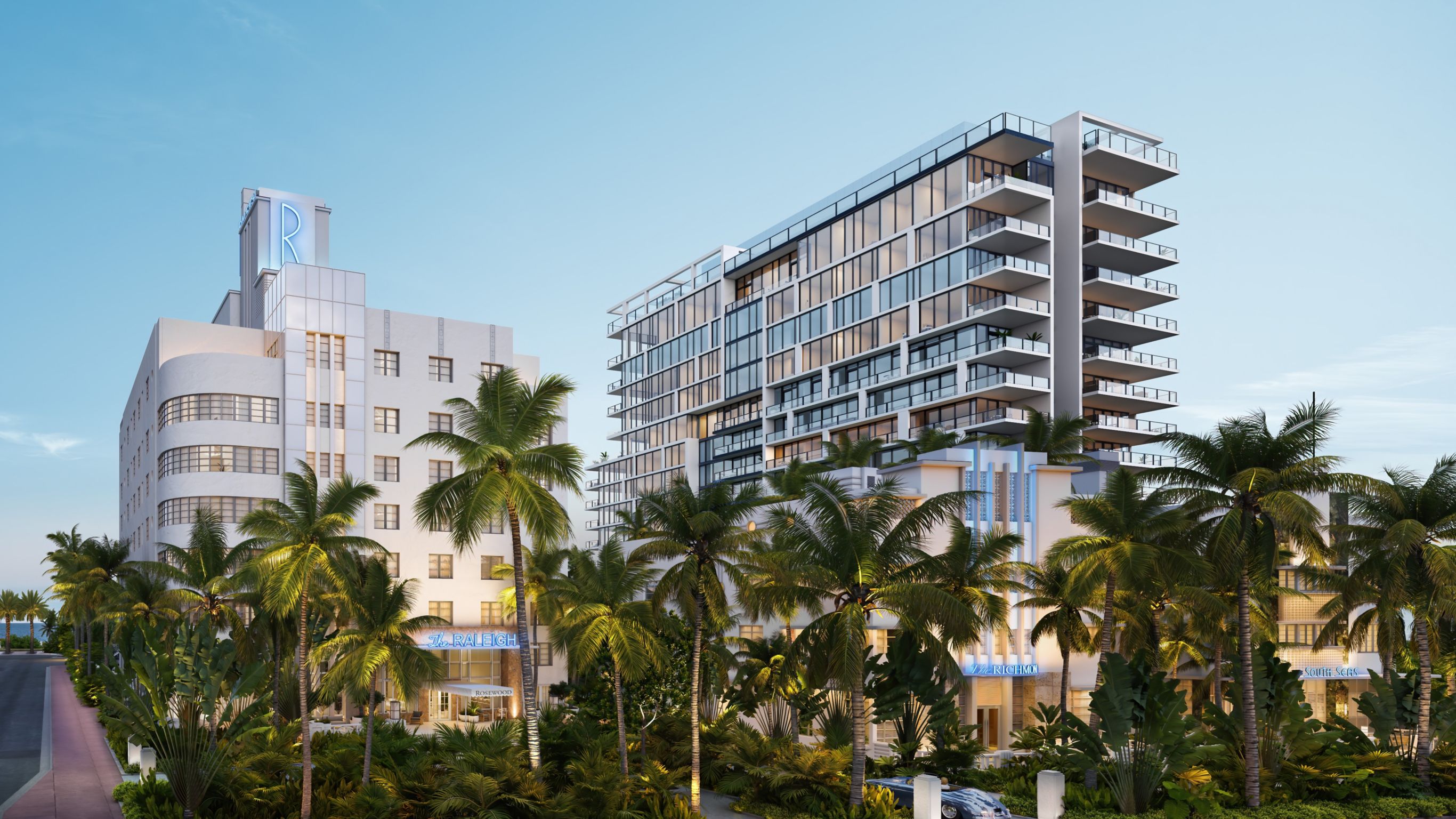 Offered from $7 MILLION
Introducing The Raleigh, A Rosewood Hotel and Residences. Originally constructed in the 1940s by the renowned Miami architect L. Murray Dixon, The Raleigh is set to make a highly anticipated return through a meticulous revival and restoration.
Nestled at 1775 Collins Avenue, this reimagined three-acre oceanfront retreat in the heart of Miami's vibrant Art Deco district will showcase three components designed by the acclaimed architect Peter Marino: a newly constructed 17-story oceanfront tower featuring 44 residences, and a 60-room and suite hotel managed by Rosewood.
No. 6
The Perigon Miami Beach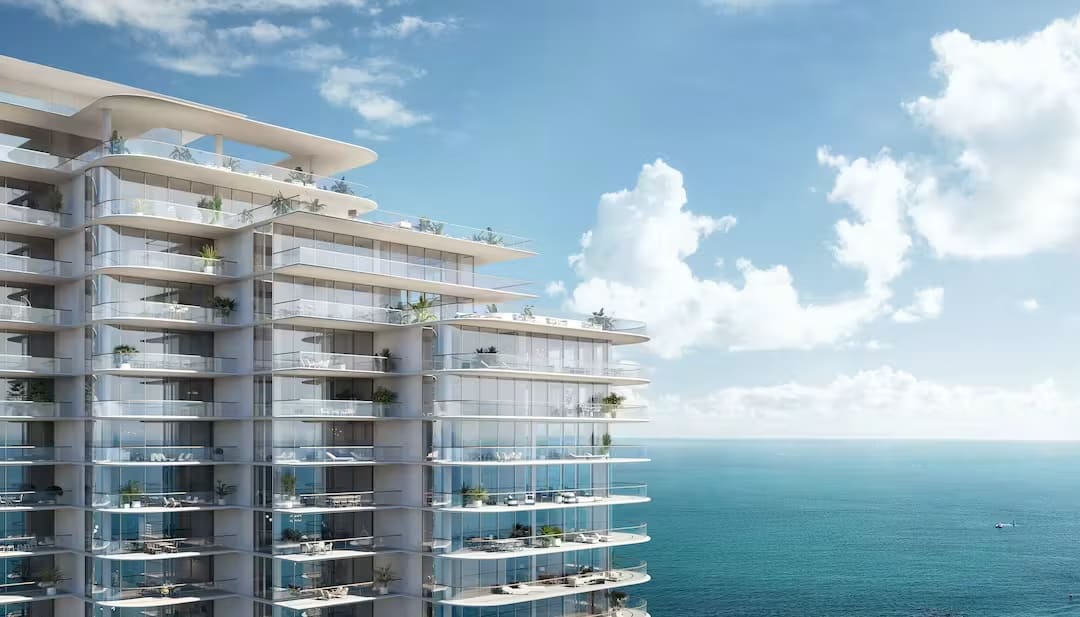 Offered from $3 MILLION
A residential masterpiece on the shores of Miami Beach offering an unparalleled quality of life.
Rising from the most peaceful and expansive stretch of sand on Miami Beach's coastline, The Perigon is an unprecedented collaboration between three global design icons. The rare seclusion, matchless amenities, and impeccable service of this unique private enclave promise residents an exclusive Miami Beach lifestyle.
The Perigon is an OMA-designed architectural masterpiece with landscaping by Gustafson Porter + Bowman and interior design by Tara Bernerd & Partners. Responding to the blissful serenity of its setting, the building's ingenious design ensures breathtaking views west over Biscayne Bay and east over the Atlantic. Lush landscaping holds The Perigon in an otherworldly embrace, while interiors give the 73 residences, exclusive oceanfront restaurant, and exceptional five-star amenities a distinctly European feel.
No. 7
RIVAGE, BAL HARBOUR
Offered from $10 MILLION
3- to 7-bedroom exquisite Bal Harbour residences with sweeping ocean and Miami Skyline Views.
Lavish Amenities & Services: Private Dining, Beach Club, Fitness Center, Luxury Spa, and more. Unparalleled Location. Exclusive Amenities. Private Elevator Entry. Private Shoreline.
The luminous glass façade of this 275-foot tower reflects the dazzling beauty of the natural surroundings. Inside, every exquisite element is designed with impeccable attention to detail. The grand scale of these beachfront family villas-with their generous balconies, large windows, and private elevators-creates the impression of entirely separate single-family homes floating in the clouds. It's the essence of refined living: open, airy, and expansive. For those who are modern by nature, this is the life.
No. 8
SIX FISHER ISLAND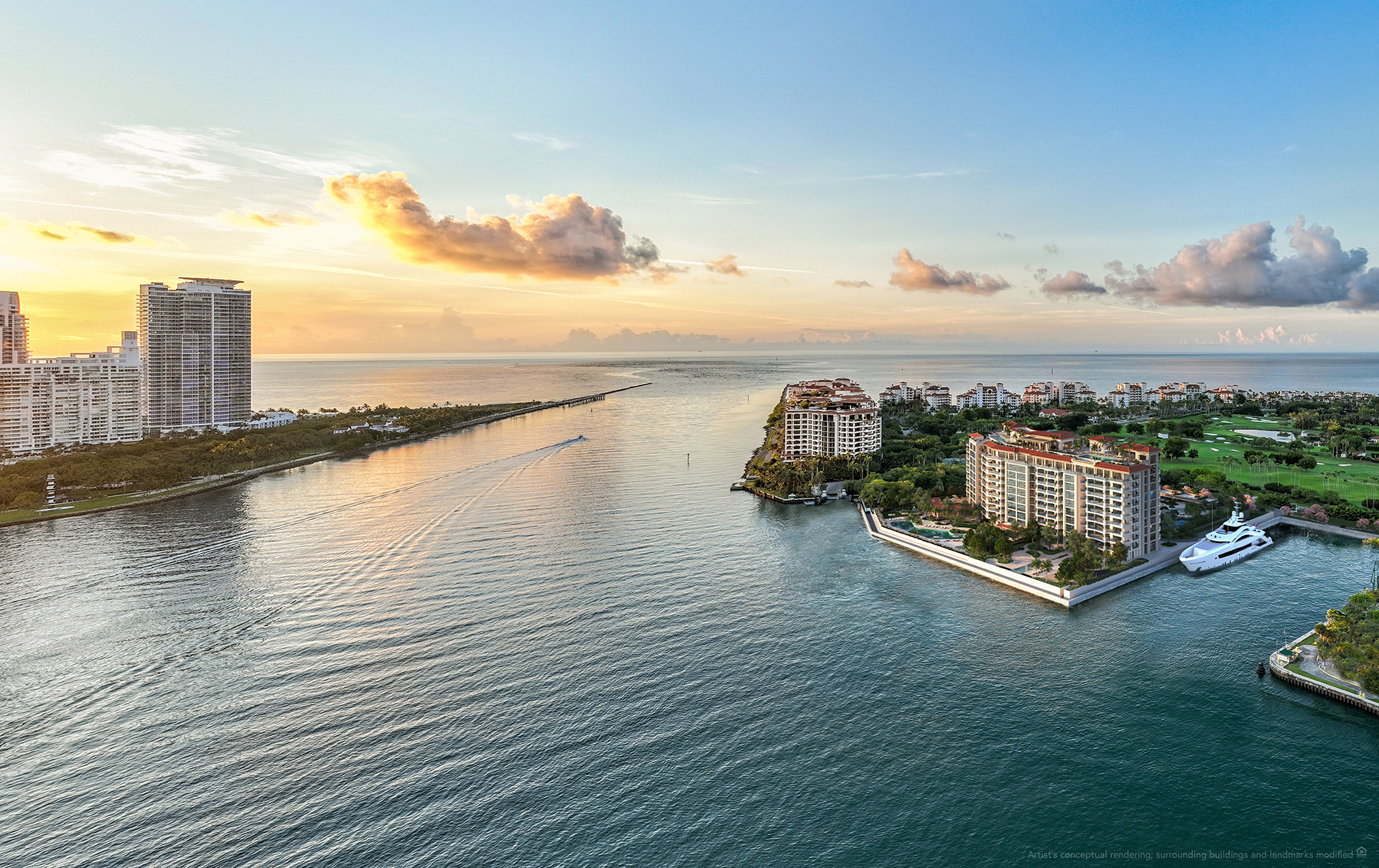 Offered from $15 MILLION
Experience the epitome of luxury living at The Residences at 6 Fisher Island. Here, the art of living is perfected, in a world of impeccable white-glove service, where your every need is anticipated.
Immersed within a captivating expanse of azure waters, you are transported to a realm of extraordinary beauty, where meticulous attention is paid to every detail and limitless opportunities for exploration lie in wait. With a focus on fulfilling your every desire, be it for rejuvenation or exhilaration, residents are encouraged to live effortlessly. Indulge in a lifestyle designed to cater to your every whim, whether you seek restoration or exhilaration. At 6 Fisher Island, we redefine the standards of service and sophistication. Enjoy a plethora of refined dining options, each offering a unique and elegant experience.
Unwind at the lavish beach club, positioned at the water's edge, where you can revel in the tranquil ambiance of the ocean. For those with a passion for maritime pursuits, its state-of-the-art deep-water marina stands ready to accommodate the most discerning yacht.
Three-to-right bedroom residences from 4,000 - 15,570 square feet.
No. 9
SURF HOUSE & SEAWAY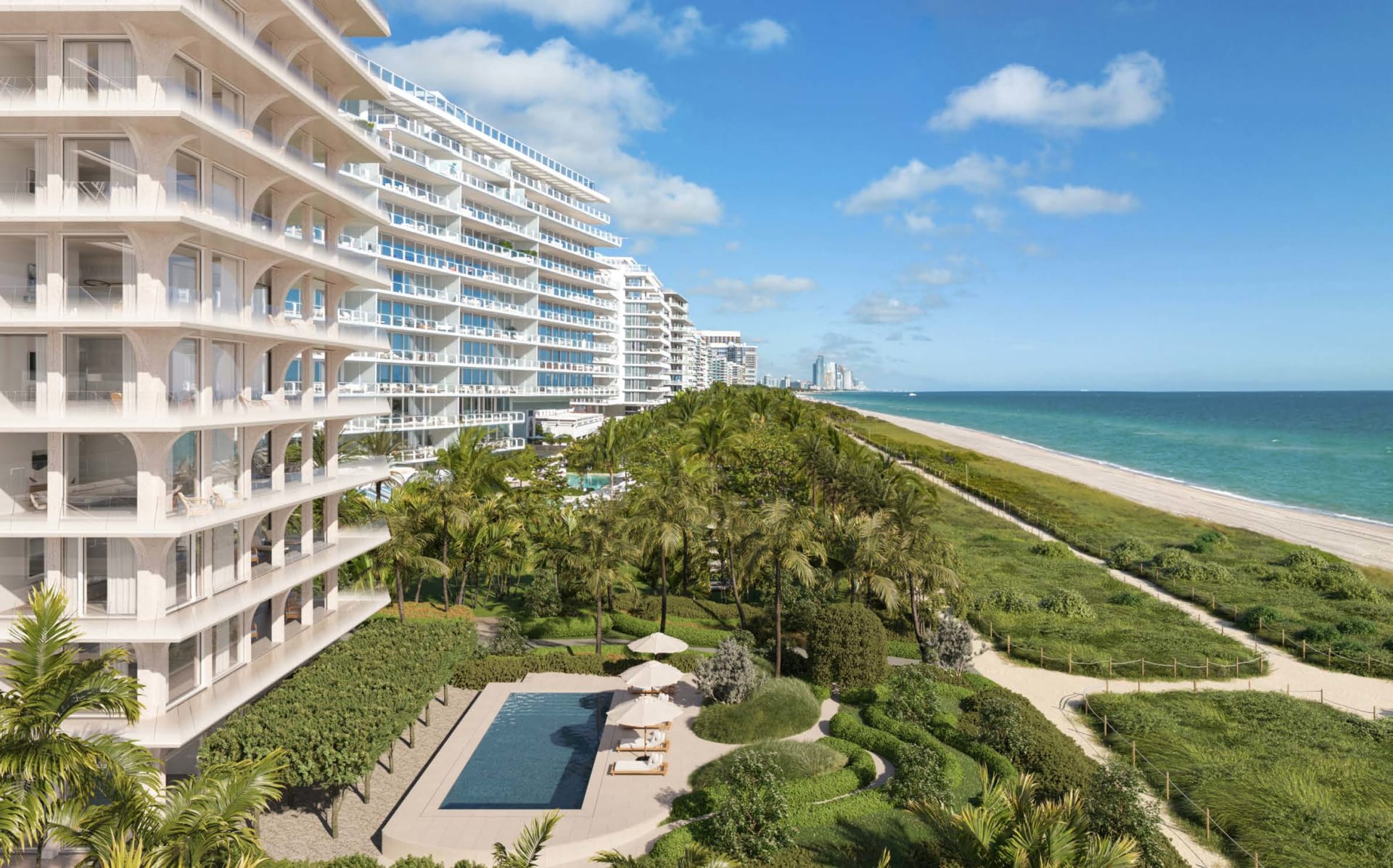 8995 Collins Ave, Surfside, FL 33154
Surf House and Seaway are the latest addition to The Surf Club Residences at Four Seasons in Miami Beach's heavenly sphere, situated along a pristine stretch of Atlantic coastline boasting over 1,350 linear feet of beachfront. Conceived by New York-based French architect Jerome Engelking, Surf House and Seaway introduce forward-thinking design while paying homage to the original 1965 building. This tribute comes to life through softly curved alabaster arches, palm-shaped columns, terrazzo cladding, and vaulted cornices. The balconies, novel in design, seamlessly blend with the façade's columns—a perfect marriage of vertical and horizontal elements—featuring opacified glass and a seamless white ceramic frit.
The interior of the seventeen residences is delicately fashioned in a polished, European manner by the Paris-based Italian architect Fabrizio Casiraghi. Generous proportions and graceful details highlight ageless elegance and lasting quality. The careful and sophisticated selection of natural materials, such as fine woods, stones, and glass, cultivates a quiet splendor that offers absolute serenity, coupled with extensive coastal views and endless blue skies.
The architecture is generously complemented by dreamy, lush gardens designed by the esteemed Belgian landscape architect Peter Wirtz. These gardens lead to The Surf Club through a promenade of abundant green flora and soft white sand. Fort Partners' vision of a life well-lived prevails at both Surf House and Seaway through collaboration with master talents. Complemented by the renowned care and exceptional service offered by Four Seasons management, the distinctive qualities of the building radiate with harmony and substance, safeguarding the well-being and enjoyment of those who choose to make both Surf House and Seaway their home.
Miami's pre-construction condominiums offer an enticing entry point into the city's dynamic real estate scene. Renowned architects such as Zaha Hadid and Adrian Smith have contributed their expertise to iconic projects like One Thousand Museum and 57 OCEAN, shaping the city's skyline with architectural marvels. As Miami emerges as a premier choice for global buyers, this preconstruction condo list showcases the latest developments, featuring comprehensive materials such as renderings, brochures, floor plans, and fact sheets. While the process of acquiring a pre-construction condo differs from that of existing ones, our team of specialists is ready to guide you through every step, addressing any inquiries you may have. If you're interested in acquiring a new or pre-construction condo in Miami, please don't hesitate to reach out to us.
Welcome to the vibrant world of Miami real estate! As we step into the promising year of 2024, let's delve into the latest trends and predictions shaping the dynamic Miami real estate market. Our experts have curated a comprehensive guide to provide you with valuable insights into the ever-evolving landscape of Miami's housing market. The Miami real estate market in 2024 is anticipated to continue its robust growth, with predictions for 2024 pointing towards exciting opportunities for both buyers and sellers. Stay ahead of the curve by staying informed about the latest market trends and developments. Explore our collection of stunning Miami real estate images that showcase the diverse architectural styles, luxurious interiors, and breathtaking views that make Miami one of the most sought-after destinations for homeowners. Whether you're interested in modern condos, charming houses, or beachfront properties, our curated gallery has something for every discerning taste. Stay updated with the latest Miami real estate news to make informed decisions about your property investments. Our news section covers everything from market fluctuations to emerging neighborhoods, ensuring you are well-equipped with the knowledge to navigate the Miami real estate landscape with confidence. Curious about specific property prices? Look no further than our detailed analysis of Miami real estate prices. We break down the data to provide you with a clear understanding of the current market values, helping you make well-informed decisions about buying or selling your Miami property. For a seamless home search experience, leverage the power of Zillow Miami. Our integration with Zillow ensures you have access to the most up-to-date listings, allowing you to explore Miami houses that match your preferences and budget effortlessly. Indulge in the allure of Miami Beach real estate, known for its pristine sandy shores and luxurious waterfront properties. Discover the unique charm of Miami Beach and explore the available real estate options that perfectly blend style, comfort, and coastal living. In summary, whether you're a prospective buyer, seller, or real estate enthusiast, our platform is your go-to resource for all things related to Miami real estate. Dive into the market, stay informed, and make confident decisions as you navigate the exciting world of Miami real estate in 2024 and beyond.