"SPATIALLY ORIENTED TOWARDS THE SKY, THESE HOMES UTILIZE LIGHT AND NATURE TO INSPIRE, ELEVATE, AND CONNECT US WITH THE ENVIRONMENT. THEY ARE SIMULTANEOUSLY UPLIFTING AND GROUNDED WITH THE WONDEROUS BEAUTY THAT IS THE SURFSIDE COMMUNITY." - Rene Gonzalez
A collection of private beach homes by Rene Gonzalez Architects set where Miami Beach meets Surfside. Eight sophisticated homes grounded by nature and uplifted by light. The outdoors are prevalent, blending with the interiors. Each home has a distinct layout and character; one-of-a-kind backdrop inspiring owners to live unique experiences. The SurfRow Residences combines the neighborhood's rich heritage with modern beach living and reimagines the prestige synonymous with Northeast brownstones.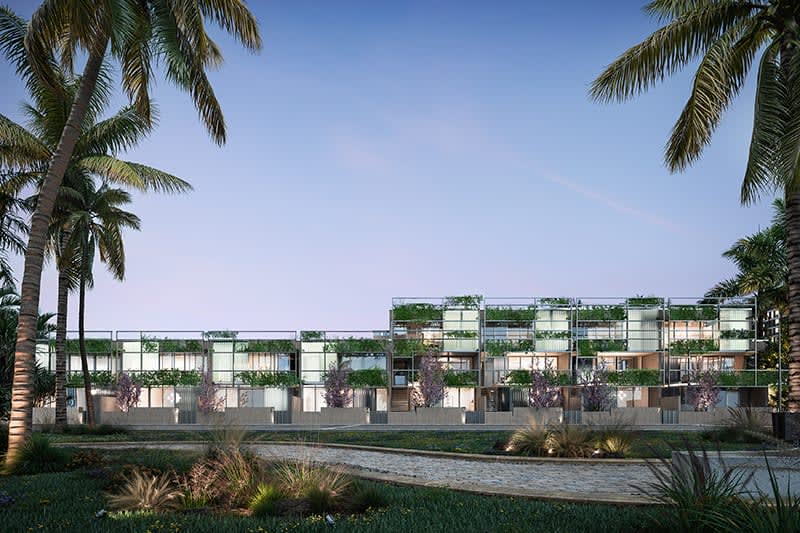 THE COLLECTION
Eight Private Beach Homes by Rene Gonzalez Architects
Three, Four & Five Bedroom Options
3,460 to 5,600 SF of Interior Space
2,000 SF of Private Outdoor Living Space
"Rene Gonzalez, who has lately emerged as one of Miami's most influential young architects, is known for the modernist rigorous and simplicity of his work but also his imaginative use of materials."
Surf Row Residences provides buyers with an incredible opportunity to own a one-of-a-kind, exclusive villa, that lives like a single-family home given the sprawling layouts and private outdoor space," said Alejandro Bonet, Partner at Linéaire Group. "Today's buyers are seeking a blend of suburban space without sacrificing location, and we believe this development offers an exciting sense of both community and privacy that meets those demands."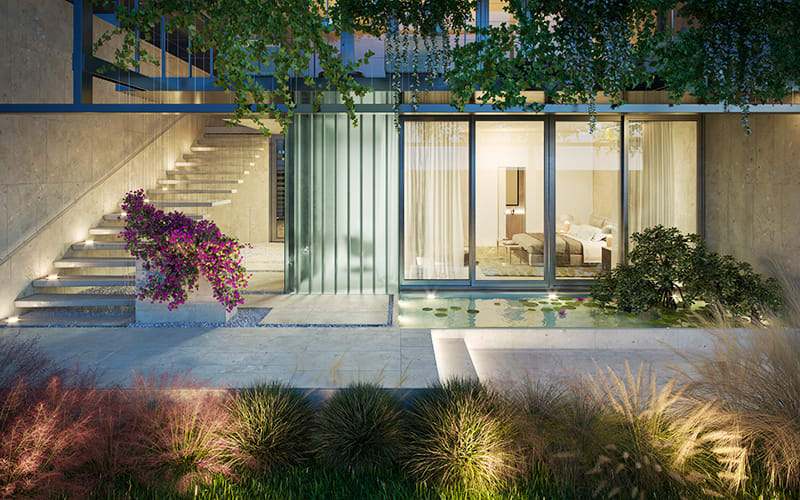 Lineaire Group, a Miami-based real estate development and investment company, in partnership with ONE Sotheby's International, and with exclusive sales by Anna Sherrill, announces Surf Row Residences, a new ultra-luxury residential development located at 8800 Collins Avenue in Surfside. Featuring a collection of eight private beach homes designed by award-winning firm Rene Gonzalez Architects (RGA), the development offers refined interiors, the utmost privacy, and unparalleled indoor-outdoor living adjacent to the beach. Only a few residences have been released and sales are currently by invitation only.
Each uniquely designed villa maximizes the indoor and outdoor connection through the precise use of skylights, layered glass, and double-height ceilings. Residences range from three- to five-bedrooms with 3,500-5,600 square feet of indoor space. Each will have more than 2,000 square feet of private outdoor living space which includes a rooftop with a plunge pool, a summer kitchen, and an expansive gazebo. Each home will also feature private garages and an enclosed front yard. Residences are priced from $5 million.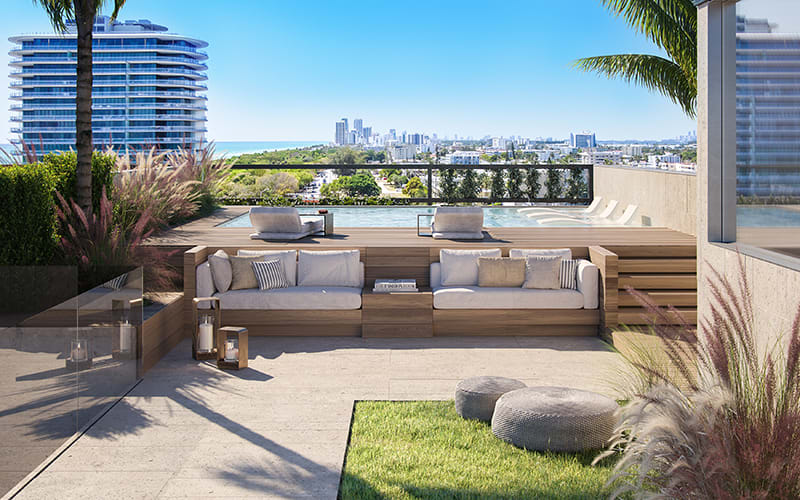 "Spatially oriented towards the sky, these homes for sale in Surfside Florida utilize light and nature to inspire, elevate and connect us with the environment," said Rene Gonzalez. "They are simultaneously uplifting and grounded with the wondrous beauty that is the Surfside Community."
RESIDENCES FEATURES
• European kitchen with custom-designed solid wood cabinetry, imported marble countertops and professional-grade appliances
• Large format coral stone flooring with natural wood inlay designs
• Floating staircases made with cantilevered solid wood slabs & glass panel railings
• Spa-inspired master bathroom furnished with a luxurious rain shower, oversized freestanding tub, and finished with imported fluted marble walls
• Skylight flooding the interior with natural light via central light shaft spanning all levels
• Rooftop with summer kitchen and plunge pool
• Gated two and/or three car garages (with option of adding a lift for adding cars)
• Latest smart home automation by Savant
• Top-of-the-line security system with exterior surveillance cameras
• Private elevator
• Service/laundry room.
Upgrades (Optional)
• Kosher kitchen
• Elevator lift for additional parking
• Interior surveillance package
The 0.65-acre development site is located along the northern frontage of 88th Street between Collins Avenue and Harding Avenue. The property was acquired by an affiliate of Lineaire Group back in August 2021 for $7.3 million from the previous owner. According to property records, the parcel of land is addressed as 8809 Harding Avenue, but the switch to a Collins Avenue address is deemed much more suitable for marketing purposes. Surf Row Residences will be within a few steps of the beach entrance, and walking distance to North Shore Park, Four Seasons at The Surf Club, Bal Harbor Shops, Indian Creek Country Club, and The Shul, and less than a five-minute drive to Haulover Inlet and Marina.
The project is slated to break ground in Q2 2023 with completion scheduled for 2024.