Take one look at income tax rates in New York—and the median cost of a one-bedroom apartment with no natural light—and it's no wonder why people who can afford to are flocking to Miami to purchase Real Esate.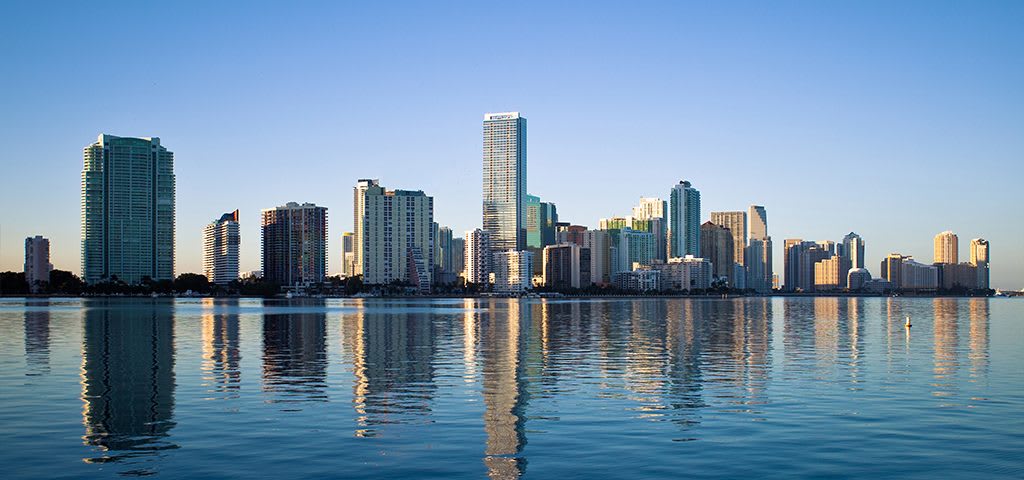 With no state income tax at all, Florida and Texas are the No. 1 and No. 2 destinations for high-earning millennials on the move, according to a new SmartAsset analysis. Using data from the IRS and the 2021 tax year, SmartAsset measured net migration patterns (the inflow of new high earners minus the outflow) among young professionals ages 26 to 35 bringing in at least $200,000 a year. Florida gained a net 2,175 people in this cohort; Texas gained a net 1,909.
Meanwhile, the nation's biggest economies, New York and California, withstood the biggest net losses at 5,062 and 4,495 young high earners, respectively. But they aren't exactly desperate for young blood, as the two states are still home to the most young high earners by a vast margin.
None of this may come as much of a surprise if you've listened to any of the anecdotal narratives that Florida and Texas have become the new New York and California as remote workers left their cramped urban apartments during the pandemic. The two southern states boast year-round warm weather, ample open space, and (of course) no income tax—ideal for young earners who are first and foremost focused on saving and contributing to their retirement accounts. It's made the states enduringly ideal locations for those who don't have to show up in their Manhattan or San Francisco offices to earn their hefty paychecks.
Remote work "opened the door for more people to move farther away from the workplace and explore living in a new area," Randy Ryerson, vice president of marketing and communications for rental truck company Penske, told Fortune last year.
Of course, some workers also likely followed their companies there. Legacy New York–based finance giants, like Blackstone and Goldman Sachs, have opened and expanded offices in Miami, while tech giants like Tesla and Oracle have left the Golden State for the Lone Star. More Fortune 500 companies are now based in Texas than any other state, with Houston being the most popular city for headquarters. Texas's average cost of living is just over $45,000, a 2022 study by the Commerce Department's Bureau of Economic Analysis found. That's $8,000 lower than in California and New York, which host the second and third most Fortune 500 headquarters, Fortune's Paolo Confino reported.
SmartAsset's ranking also reflects Florida's continued domination this decade; its appeal among young workers may even catch up to its appeal among retirees. After all, Florida has an unemployment rate of 2.7%, below the national rate of 3.5%, and more space for your money. "I really liked the amenities, like swimming pools, gyms, things you couldn't get back home," Harshneel More, a 30-year-old software engineer who moved to Tampa from San Francisco in 2021—and kept his Bay Area salary—told the Tampa Bay Times.
But the HENRYs (short for high earners, not rich yet) who've packed up shop aren't just heading South, where four of the states on SmartAsset's top 10 list are located. They're also fleeing for New Jersey, which netted 1,048 new rich young professionals, and Connecticut, which netted 660. The popularity of the tristate area suggests that many remote workers aren't going far, moving out of the city to a more affordable location but still within commuting distance to the office. Washington State, which ranks seventh on the list with a net gain of 464, has the highest proportion of young high earners; more than 13% of state residents making over $200,000 are ages 26 to 35.
Here are the top 10 cities where young professionals are moving, ranked by net gain:
Florida (2,175)
Texas (1,909)
New Jersey (1,048)
Colorado (754)
North Carolina (721)
Connecticut (660)
Washington (464)
Tennessee (441)
Arizona (321)
South Carolina (318)
🌴 DISCOVER YOUR DREAM HOME IN MIAMI WITH OUR EXPERT REAL ESTATE SERVICES 🌴
Are you searching for your perfect slice of Miami paradise? Look no further! Our dedicated team of real estate professionals is here to guide you every step of the way. Whether you're seeking a luxurious beachfront condo, a vibrant urban oasis, or a serene suburban retreat, we've got you covered.
🏠 EXPLORE MIAMI'S FINEST PROPERTIES
Discover a curated selection of properties that embody the essence of Miami living. From stunning waterfront estates to trendy downtown lofts, our listings are tailored to your unique preferences.
🔑 UNLOCK EXCLUSIVE REAL ESTATE OPPORTUNITIES
As local experts, we have insider access to off-market listings and upcoming developments, ensuring you'll be the first to know about the hottest properties hitting the market.
🌆 EXPERIENCE UNPARALLELED REAL ESTATE SERVICES
Our commitment goes beyond transactions. We're here to build lasting relationships, providing you with personalized advice, negotiation expertise, and a seamless buying experience.
OUR REAL ESTATE SERVICES IN MIAMI INCLUDE
✅ Property Tours with Virtual and In-Person Options
✅ Expert Market Insights and Comparative Analysis
✅ Skilled Negotiation and Contract Guidance
✅ Seamless Transaction Management
📞 CONTACT US TODAY TO BEGIN YOUR MIAMI REAL ESTATE JOURNEY!
+1 (786) 853-8484
Your dream home in the vibrant city of Miami awaits. Let's turn your vision into reality.
Reach out now to schedule a consultation and start exploring the best opportunities this dynamic market has to offer.
Miami real estate, homes for sale in Miami, condos for sale, waterfront properties, Miami property listings, real estate agents, expert realtors, Miami market insights, luxury homes, urban living, suburban retreats.