As firms like Blackstone and Goldman Sachs boost their presence in the state, top academic institutions are facing huge demand pressure.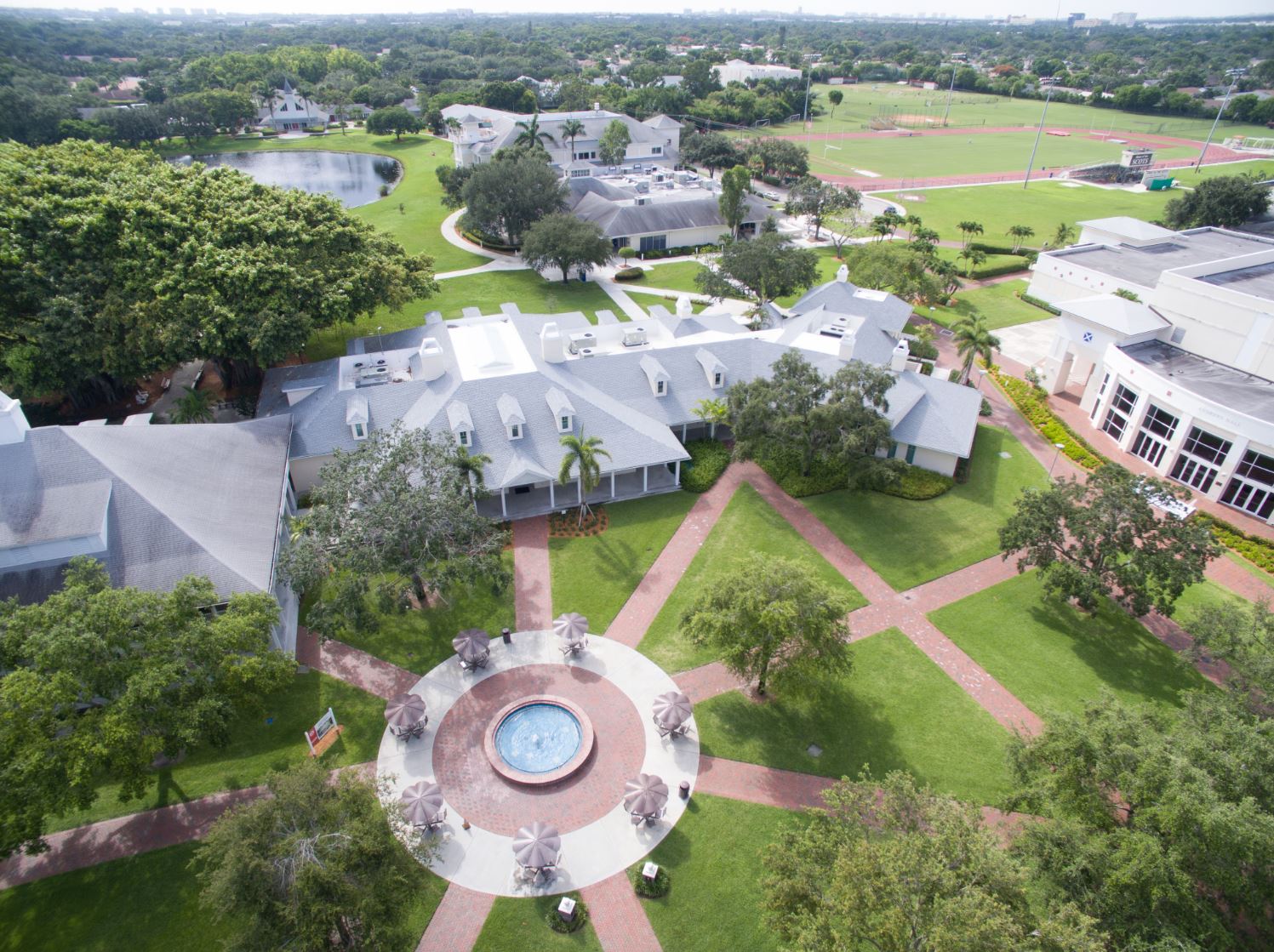 A drone view of the upper school campus of Saint Andrew's School in Boca Raton.
When Tiger Global Management's Scott Shleifer donated $18 million to Florida's Palm Beach Day Academy just months after his four kids enrolled, proud native New Yorker and hedge fund manager Roberto Mignone reacted smugly.
"You'll be back Shleifer," Bridger Management's Mignone commented on the Instagram post announcing the gift. "I'll be waiting for you."
Since the pandemic, plenty of Northeasterners have doubted young families would flock to Florida, pointing to the quality of the New York tri-state area's schools. No parent would sacrifice their child's future for warmer weather and lower taxes, the thinking goes, especially if a kid already scored a notoriously difficult-to-secure slot at an elite private school in New York City, where tuition can exceed $60,000 and hundreds of 4-year-olds compete for dozens of kindergarten slots.
Yet Shleifer and others have chosen Florida -- and schools like Ransom Everglades, Pine Crest and Gulf Stream -- hinting at a crack in the hegemony of New York's prized institutions.
Enrollment at 15 private schools on South Florida's eastern coast is up 14% on average over the past two years, compared with a 1.7% increase across the country, according to the National Association of Independent Schools. The parents coming in are able to give big -- though Shleifer's gift stands out as the largest ever to a US pre-K to 9th grade school.
There's a glaring problem, though: There simply aren't enough schools with a certain level of prestige to absorb the demand from high-earning finance workers migrating south. Goldman Sachs Group Inc., Blackstone Group Inc., hedge funds like Ken Griffin's Citadel and Dan Sundheim's D1 Capital Partners, and family offices like Josh Harris's HRS Management are among firms that have increased their presence in the state. It's a choke-point that Florida is racing to resolve.
"All these people come with their expectation that they're going to get their kids into exceptional schools," said Prasad Hedge, chief operating officer at private investment firm 777 Partners, who moved to Florida from Connecticut last year with his kids after a decade at Bridgewater Associates. "You have tremendous demand pressure."
The influx into the region during the pandemic has created anxiety and stress for all involved, more than 28 interviews with parents and administrators indicate. Those families who moved early on had an easier time placing their children. Those looking now, face a landscape that looks a lot more like New York than they anticipated.
Long-settled local families, meanwhile, are suddenly finding themselves in an unfamiliar rat race. A legacy or sibling connection may not be enough to get in. At Saint Andrew's in Boca Raton, 215 students are on a wait list after applications increased 20% in the past 18 months, said Alexandra Tolischus, the school's director of enrollment. Palm Beach Day has had more room to grow: It plans to enroll 180 more students in the fall than it did three years ago, a 45% jump.
At the Benjamin School in North Palm Beach, a co-ed institution founded in 1960 that runs from pre-K through 12th grade, the student body grew by about 130 over the past two years. Applications to so-called non-traditional entry grades surged by 76%, squeezing future class sizes, while the overall acceptance rate plunged to about 35% from 65%.
Out-of-town applications more than tripled between 2019 and 2021, according to Amy Jablonski, Benjamin's director of enrollment management, who left the Upper East Side all-girls Hewitt School a year into the pandemic. The biggest inflow came from New York, Connecticut and Massachusetts. Those who hadn't applied by early January for the following September, were likely put on a wait list, she said. Admissions over the summer, once common, have almost stopped.
What has emerged is a new level of hustle by parents, especially with some schools showing little interest in growing to meet demand.
"This is a pretty well connected town -- everybody knows somebody, and we'll get calls from those people," said David Faus, Benjamin's head of school. But "we want to know every child by name, we want to know something specific about that child, and there's a threshold where you can't do that anymore."
As for academic rigor: One Benjamin parent found his daughter is working harder than she ever did at her New York private school.
New York's most elite schools, for their part, haven't suffered; enrollment is steady and competition still stiff at Dalton, Brearley and Collegiate, where the wealthiest on Wall Street have sent their children.
But some lesser known and newer schools in the city are in more of a financial pinch. Overall, enrollment has dropped 3.9% in the last two years, according to NAIS.
Meanwhile, Florida's private schools are boasting about their Ivy League bonafides like their New York counterparts.
"In our pre-K class, we have three parents who went to Princeton, two Dartmouth, one Yale, one Columbia -- among 16 parents," Jeff Greene said of The Greene School, which he founded in West Palm Beach in 2016. "It's brain gain."
Greene is adding a high school, bringing in Steve Lyng, a former interim head of Leman Manhattan, a private school in New York's financial district. As a billionaire developer, Greene had a fast-track on managing the real estate aspect of starting a school.
Keith Rabois, the Founders Fund general partner whose relocation from Silicon Valley helped put Miami on the map for techies, sees opportunity to further bolster education in the region and reduce the logjam spurred by the pandemic. Many are already vying to fill the supply gap.
The for-profit Avenues campus in Miami's Little Haiti is under construction and set to be completed in time for the 2024-2025 school year. A new elementary school, Base Camp 305, has arrived in Miami Beach, founded by tech entrepreneur John Marshall. Chabad of Central Boca Raton is eyeing land to build a school for K-8 for students with diverse levels of observance in the growing Jewish community.
Developer Related Southeast, which owns and builds offices in West Palm Beach, has heard from current and prospective tenants that access to quality education is essential, said Gopal Rajegowda, a partner. It has organized meetings with local and northeast-based private schools to discuss expansion opportunities, he said.
Adam Mopsick, CEO of construction management and advisory firm Amicon, said he's currently working on projects that will create more flexible spaces at the Temple Beth Am Day School and Gulliver Prep in Miami-Dade County. Both should be completed this year.
"The quality of the offerings, and the overall scale of these projects, is beyond anything that they've seen before," he said.
One undercurrent that could work against Florida: The culture around schooling from Republican Governor Ron DeSantis. The state's Department of Education rejected nearly half of the suggested math textbooks for 2022-2023 because they violate state laws prohibiting teaching critical race theory, among other reasons.
What's more, Florida allocates less money per student than most other states.
Of course, private institutions can sidestep those thorny issues. Palm Beach Day parents say they're happy with the lifestyle: the safety, the traditional curriculum and the ease with which they can commute from the office to attend a child's soccer game, which one parent said is easier than a trek to Randall's Island.
The lack of local educational professionals isn't an issue either, another parent said: Kids can talk over Zoom with their speech therapist or tutor in New York.
Still, in a place that has become wary of what is considered a competitive New York culture, Shleifer's gift to Palm Beach Day made an impression. It was far larger than anything the school has previously received.
Teachers and staff are "providing children with an education that focuses on excellence and reinforces the values of kindness and integrity," Shleifer said in a statement announcing the gift. "We hope our support enables the school to continue building on those traditions."
Robert Weston, a senior vice president at CCS Fundraising, called the amount "exceptional for a K-9 school."
And it would be "even in New York City, " he added.