Find great options for Cuban food, sushi, a special-occasion dining and more reasons to dine out in Miami this 2022.
The Best Restaurants in Miami in 2022 by Time Out Magazine
1. Boia De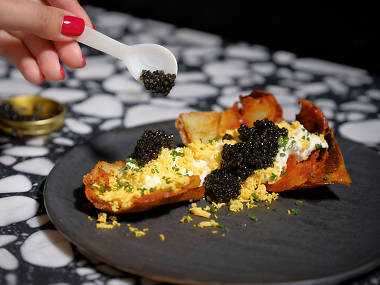 Photograph: FujifilmGirl
What is it? A cross between an L.A. strip-mall gem and a cozy, narrow Brooklyn dive, Boia De sits on the edge of Little Haiti, where it serves modern American dishes with a few that lean Italian.
Why we love it: Michelin-trained chefs Luciana Giangrandi and Alex Meyer pour themselves into this place, constantly reinventing the classics. The beef tartare, for example, is topped with a crunchy shallot-garlic concoction as well as capers, which are fried for a burst of briny flavor, and then the whole thing is smothered in a yummy tonnato sauce, a tuna-based Italian condiment that holds everything together like some kind of fancy picnic salad. The pasta is fresh and the wine list superb, offering a few skin-contact options to coax you out of your comfort zone.
2. La Mar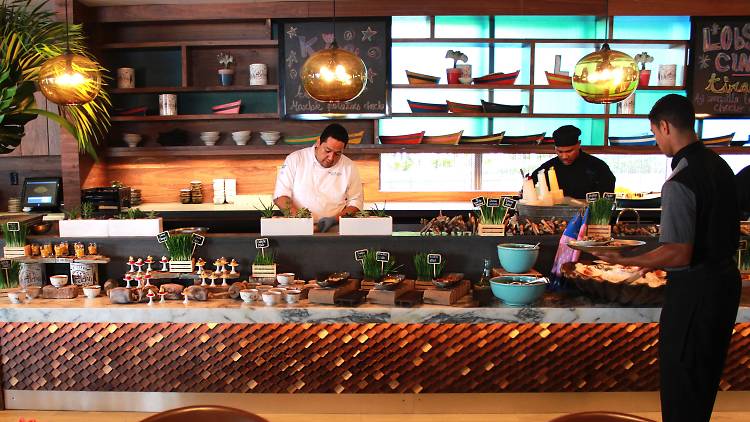 Photograph: Courtesy La Mar
What is it? Gastón Acurio's renowned Peruvian restaurant inside the Mandarin Oriental, Miami, where the supremely talented Diego Oka runs the show.
Why we love it: It takes serious talent to skillfully execute the complicated raw dishes La Mar puts out daily, and chef Oka's got it in droves. His precision and technique are on display in every ceviche and tiradito adorned by foams and edible flowers. La Mar's waterfront patio is another sight for sore eyes, offering diners a 360-degree vista of Downtown and Brickell. Swoon.
Time Out tip: Oka revamped the menu last fall after nearly two years, and he pulled no punches, adding instant favorites like a tuna tostada over a locally made blue corn tortilla and conchitas a la parmesana—plump jumbo scallops served on a nacre half-shell and drizzled with creamy aged parmesan cheese. And not quite new but new-to-us, La Mar's ceviche bar is open for dining. Grab a seat and watch Oka and his talented team get to work on your meal.
3. Zitz Sum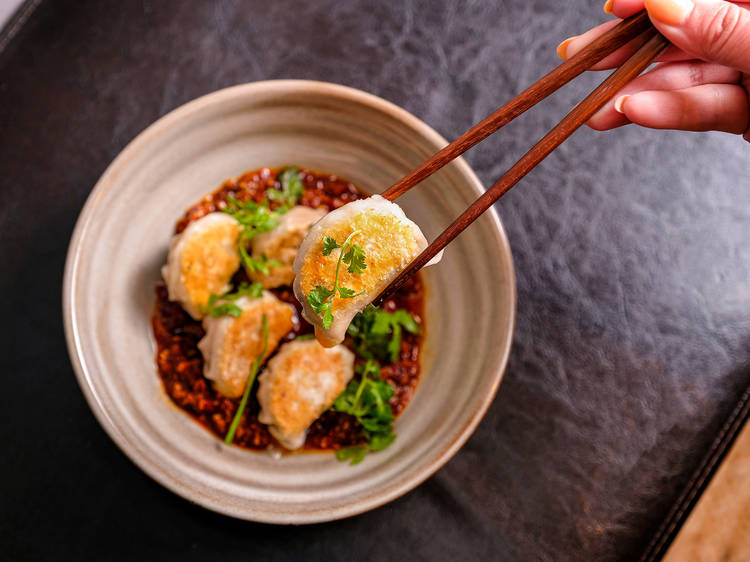 What is it? Zitz Sum is a modern, Asian-inspired restaurant in Coral Gables.
Why go? Chef and owner Pablo Zitzmann started his solo dumpling business during lockdown, and we couldn't be happier for his success. Zitz Sum is now a brick-and-mortar in Coral Gables, which means we can pop in at any time for his hand-rolled dumplings, scallion pancakes and other Asian-influenced dishes. Zitzmann, who's of German-Mexican heritage, lets his creativity run free with unexpected pairings like charred cabbage with habanero butter and aged parmesan and chicken pot stickers with Oaxacan salsa macha.
4. Stubborn Seed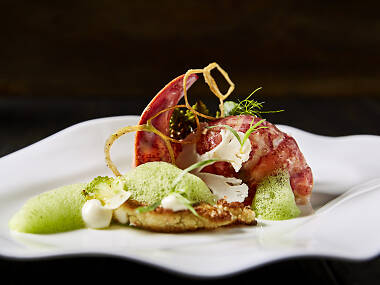 What is it? Top Chef winner Jeremy Ford's edgy neighborhood restaurant doles inspired new American cuisine you'll be craving long after your meal.
Stubborn Seed has the kind of wow-factor you don't see often in these parts of South Beach, where it's all sparklers and velvet ropes (yes, even at restaurants). There's a thoughtful subtleness to Ford's cooking, which we find at once unconventional and familiar. Starters like the gooey jalapeño fritters and the cacio e pepe cheesy puffs will leave you asking yourself, why have I never tasted this before? But now you have and you'll never be able to get them out of your head. For a bit of nostalgia, we suggest the roasted barramundi served atop a delicate stew of onions, citrus and carrot puree, which was inspired by a dish Ford's grandmother made him growing up.
Time Out tip: Arrive early for an unhurried journey through the eight-course chef's tasting menu—a no-brainer for any first-timer at Stubborn Seed.
5. Mandolin Aegean Bistro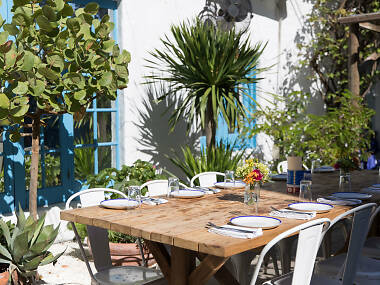 What is it? Styled after the striking white-and-blue paint seen in Cycladic landscapes, Mandolin is a dreamy outdoor eatery serving traditional Greek food.
Why we love it: There's no better date spot. The menu of shareable dishes—think mezzes, baskets of freshly baked pita bread and a fresh whole grilled fish for two—helps play up the romantic atmosphere. Mandolin's satisfying homemade sangria really evokes the feeling of an island vacation, but don't take too many sips: You might just confuse its whitewashed exterior for Santorini.
6. Cote Miami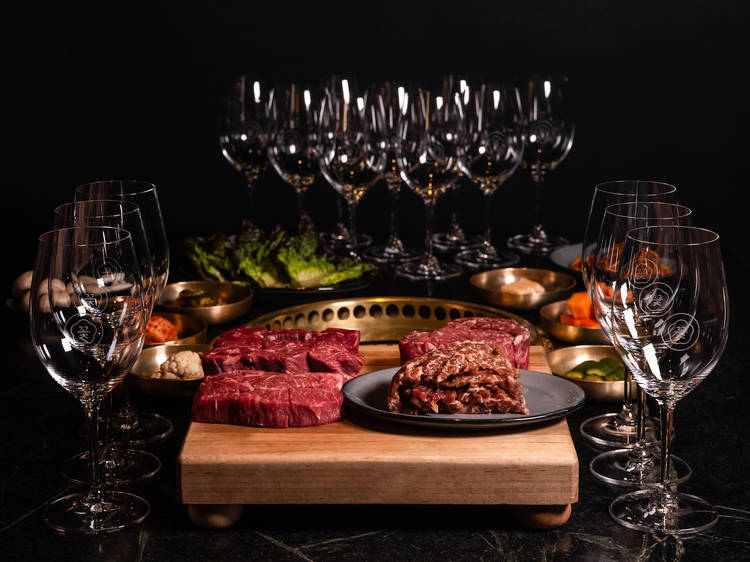 What is it? The Miami outpost of this Michelin-starred Korean steakhouse from New York City is every bit worth the splurge—and splurge you will.
Why we love it? Cote brings a new level of dining experience to Miami, one that's upscale but approachable and with a high-end menu that's still got plenty of heart. The tables are equipped with smokeless charcoal grills, where servers cook your dry-aged beef for you. Lest you forget the caliber of the restaurant, there's no chance you're going home smelling like you've been on the 'cue yourself. (We can't say the same about other Korean barbecue joints we've frequented.) First time? The Butcher's Feast tasting experience is a great way to sample the restaurant's heavy hitters for an accessible $64 per person. It'll leave plenty of room in the budget to savor one of the excellent craft cocktails, such as the Esteban, a super smooth mezcal negroni.
7. LPM Restaurant and Bar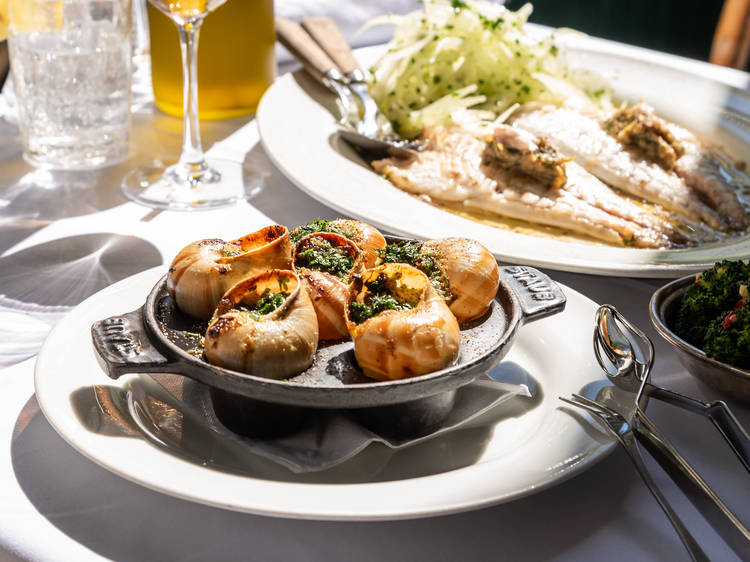 What is it? This enchanting import from Nice draws on its Mediterranean origins, serving a medley of seafood plates alongside a smattering of traditional French cuisine.
Why we love it? Try the escargot, the whole sea bream baked en papillote and the french fries, which are made with as much care as the entrées. In fact, the spuds cook for hours, going from boiling pot to fryer to oven.
Time Out tip: The fresh tomato and bread service will catch you off guard if it's your first time dining at LPM, but don't be afraid grab a knife and slice right in.
8. Ghee Indian Kitchen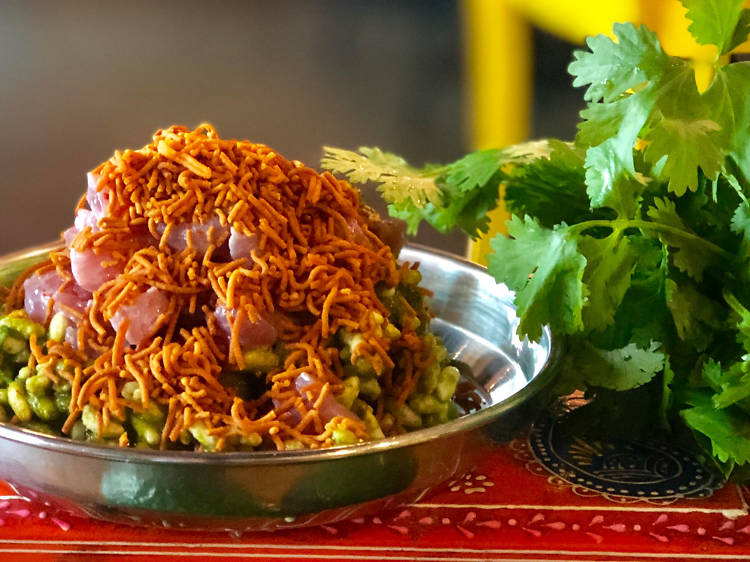 What is it? At Ghee, critically acclaimed chef Niven Patel doles out farm-to-table Southeast Asian food good enough to get folks to the 'burbs for dinner.
Why we love it: Patel grows about a quarter of his ingredients at his Rancho Patel in Homestead. And the whole operation is a family affair: His mother and mother-in-law can be seen whipping up smoked lamb neck, crispy cauliflower and steamed green millet, and other specialties in the open kitchen. The dishes are seasonal, the curries are made fresh, and the naan is so flavorful, it should really be savored on its own.
9. Itamae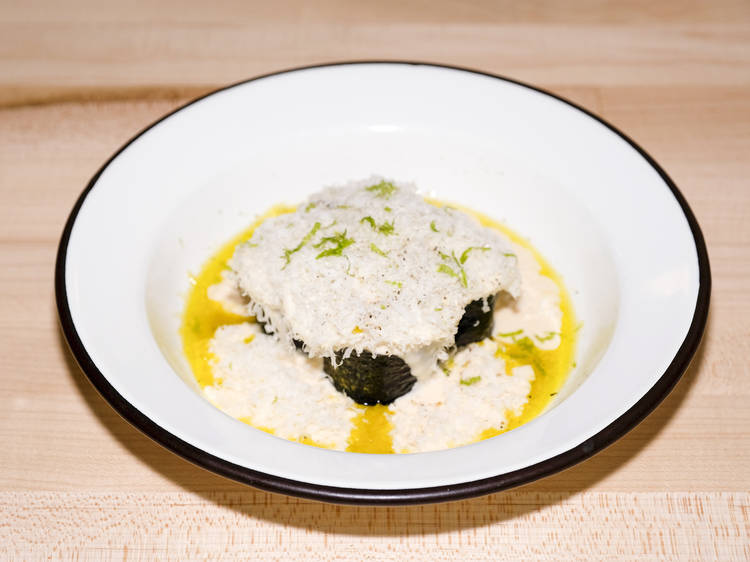 What is it? This family-owned, Nikkei-inspired restaurant grew from a humble stall in the neighborhood's food hall, Mia Market, to a prime location in the Design District's Palm Court.
Why we love it: Itamae 2.0 is a glittering example of innovative Peruvian cooking, where the possibilities for raw fish are seemingly endless. You'll find a variety of cebiches and other staples of South American cuisine, though our greatest obsession are the conchitas a la parmesana (stacked with fish, charred scallops and avocado). Each order offers four deliciously messy bites that make it snow parmesan flakes as you try to stuff one in your mouth. Getting it everywhere is actually half the fun.
10. Sunny's Steakhouse
What is it? What began as Jaguar Sun's brilliant lockdown pivot returns for a second season: Sunny's Steakhouse is back at Lot 6 in Little River all winter long.
Why we love it: Synergetic owners chef Carey Hynes and bar director Will Thompson manage to complement each other each step of the way. There's no fino martini without the striped seabass crudo, no Barracuda without the parker house rolls and no Boulevardier without a dry-aged ribeye to make sure you're not a very drunk diner.
Time Out tip: Jaguar's large-format martini is a deliciously dangerous proposition. We don't think we've seen something like it anywhere else so we suggest you order one. You know, for science.
11. Luca Osteria
What is it? Luca is Giorgio Rapicavoli's delicious salute to his home country, serving up modern interpretations of Italian classics.
Why we love it: We know this is a restaurant list, but we're going to lead with cocktails. Luca's impressive list of Italian standards and reinvented classics deserves serious praise. We can never decide between the banana espresso martini or the Portofino, which is his take on a dirty with a delicate drizzle of super high-quality olive oil. Naturally, we get them both. The same goes for the pasta—from the tangy al limone and the cheesy cacio e pepe to the rich short rib bolognese, you'll want to order several when you dine here.
13. Leku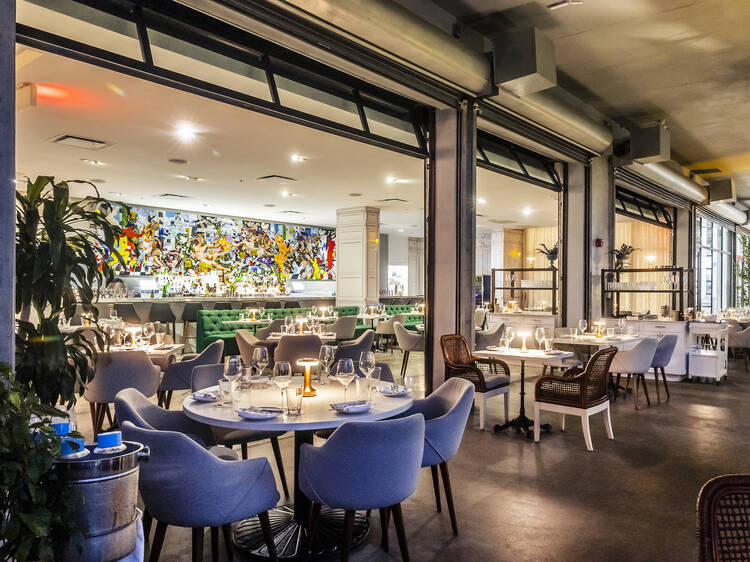 What is it? The Rubell Museum's onsite restaurant offers a delightful journey through Spain's Basque country, from the wines and the dishes to the signature burnt cheesecake.
Why we love it: Miami has quite a few Spanish restaurants but few with a focus on Basque cooking, which is pretty special based on our experiences at Leku. Their take on the cuisine is refined, ingredient-driven and occasionally playful—think short rib sliders on milk buns and 5 Jotas Iberico ham on an airy bread you crack with the back of a spoon to enjoy. Speaking of crackers, the starter version topped with seasonal tomatoes doesn't jump off the page but trust us when we say a more flavor assortment of plump tomatoes, fresh herbs and edible flowers does not exist. Leku is good for a pit spot before or after a visit to the Rubell.
Time Out tip: Leku is now the first restaurant in South Florida with an outdoor double Josper grill. The high-powered contraption is doling out a chateaubriand for two, double lamb chops, picanha and other prime cuts of meat. Carnivores, prepare to feast.
14. The Surf Club Restaurant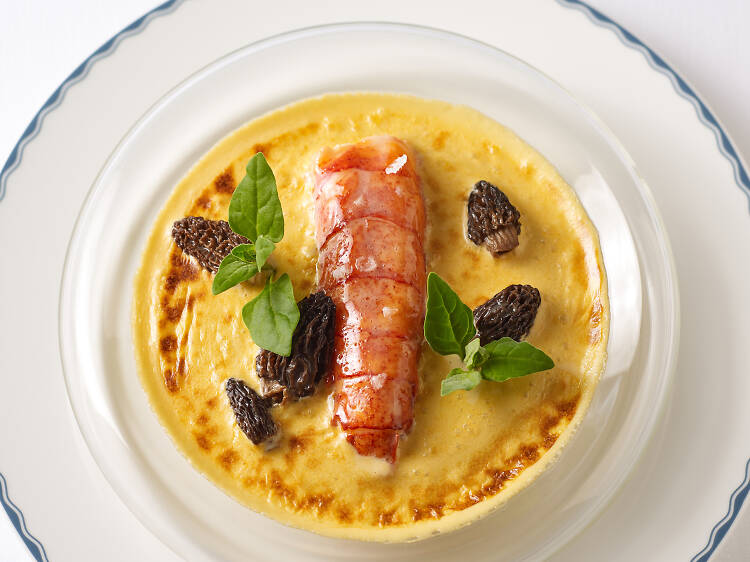 What is it? Thomas Keller's restaurant inside the Four Seasons Surf Club is a shining example of the quality and elegance the chef is known for.
Why we love it: From the tightly edited classic American menu to the midcentury stylings to the special moments afforded by the numerous tableside preparations available, it's all class, baby. It's not stuffy though, as classic rock and dim lights give the warm space a lounge feel. Go in knowing you're going to spend a fortune but it'll all be worth it for shareable dishes like the flaky beef wellington that's baked and carved to order.
15. Mignonette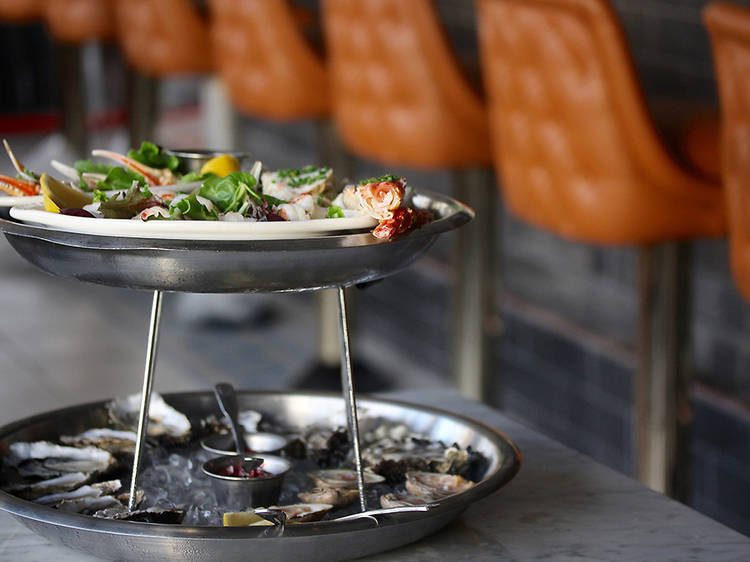 What is it? Converted from a 1930s gas station, this is a genuine oyster bar, with the marquee to prove it.
Why we love it: Find the day's Atlantic and Pacific bivalves listed on a retro signboard that's perched above the counter, where you can take a load off and watch all the shucking action. The casual space has a definite diner feel, but with much better food: Overflowing with chunks of buttery claw meat, the Connecticut-style lobster roll comes complete with house-made potato chips.
16. Michael's Genuine Food & Drink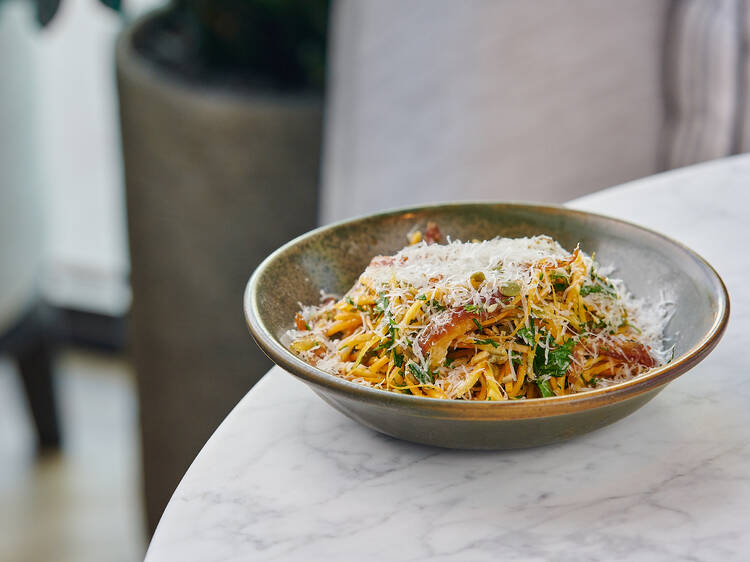 What is it? James Beard Award-winning chef Michael Schwartz's premier restaurant in the Design District is one of those iconic Miami institutions that you're supposed to like, and you invariably will.
Why we love it: Even putting buzz, accolades, celebrity sightings and longevity aside, the Design District staple still wows us after 14 years. It's even more impressive now following a renovation that saw it expand its indoor and outdoor dining areas, widen its bar seating and grow its menu to reflect current dining trends—think a roasted tuna collar prepared Sicilian-style and wood-roasted camembert with golden chanterelle mushrooms and garlic toast.
The food and atmosphere walk the line between casual and showy, making it the perfect standby for a quick happy-hour cocktail, a business lunch of steak frites, or a date- night dinner of oysters, or wood-oven snapper.
17. Macchialina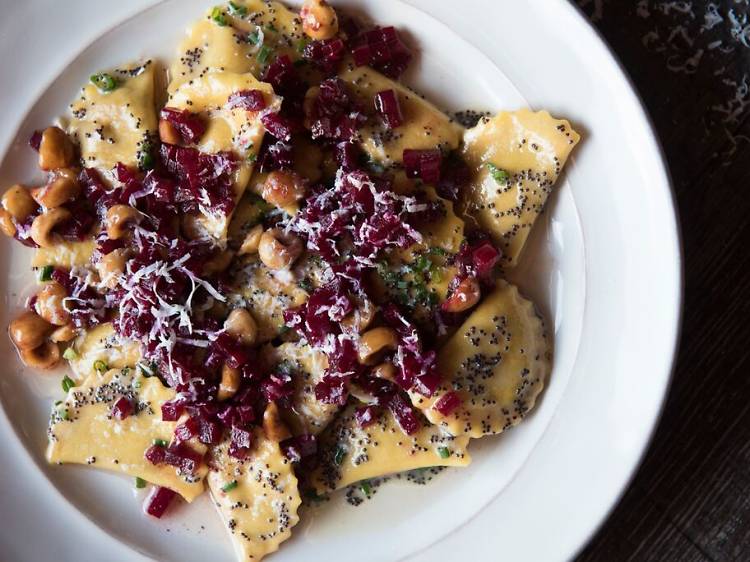 What is it? Chef Michael Pirolo's South Beach trattoria with a newly minted garden patio.
Why we love it: It's the familiar rustic Italian dishes that do us in here. Get handmade pasta served with lamb ragú, tossed with clams or served simply with garlic and olive oil to enjoy outdoors or at home now that the restaurant introduced delivery.
18. Ariete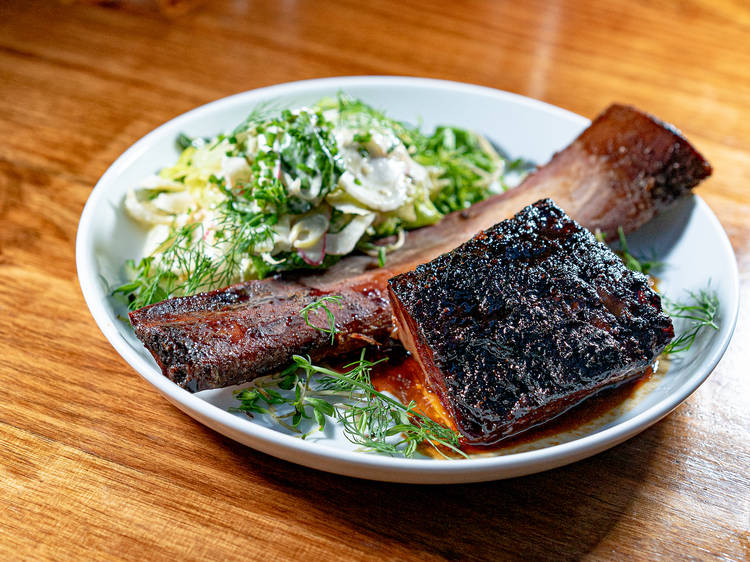 What is it? At Ariete in Coconut Grove, Michael Beltran flourishes at the intersection of homestyle Cuban cooking and contemporary fine dining. He takes familiar dishes up a notch with high-low ingredient pairings that never feel like it's trying too hard to connect: From a venison tartare and a uni disco (essentially a griddled sea urchin sandwich) to a monkfish encendido that combines shellfish with beef jus, it all kind of makes sense.
Why we love it: Few restaurants can execute a burger, foie gras, ceviche and duck with the same level of precision. But then again, few places are Ariete.
19. Carbone
What is it? The impossible-to-get-into, quite expensive and quite exceptional Miami location of Major Food Group's touted Italian restaurant.
Why go? Well, if you can get a table, you absolutely shouldn't squander the opportunity. Luck notwithstanding, Carbone is special. Its extravagant interiors (chandeliers, deep vintage Vegas-style booths, crushed velvet drapes) ooze a celebratory vibe for that anniversary dinner or landmark celebration. The doting waitstaff sees to it also. To make the most of your time at Carbone (You waited how many months for a reservation?), your meal should include the much-talked-about spicy vodka rigatoni, baked clams and the big hulking rib covered in sweet peppers. Everything else is the cherry on top.
20. Makoto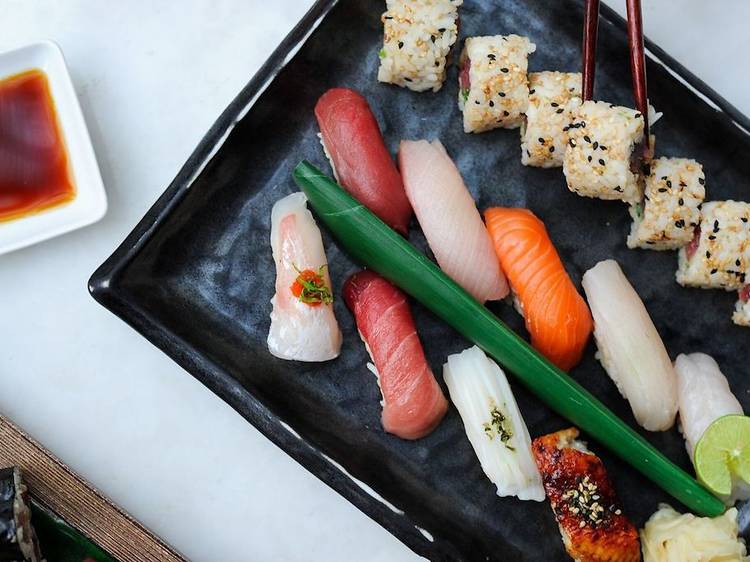 What is it? Stephen Starr's fancy pants Japanese restaurant inside the luxurious Bal Harbour Shops.
Why we love it: Hello, freshness! Makoto dishes out top-quality seafood, from its sashimi platter and its sushi to its heaping crab salad. With the verdant corridors of the Bal Harbour Shops as the backdrop for its patio and a spicy tuna crispy rice that trumps all other versions of the trendy sushi starter, Makoto wins for its mix of crave-worthy dishes and relaxed, tropical atmosphere.
21. Bourbon Steak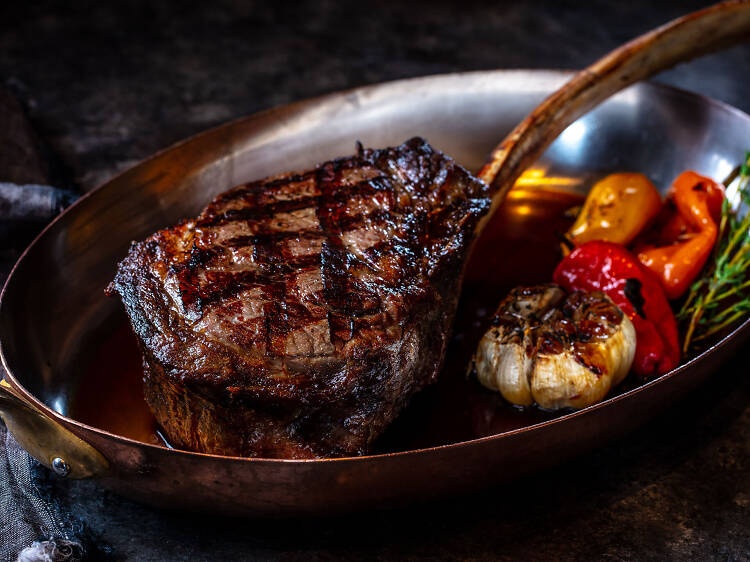 What is it? A steakhouse for nonbelievers, Bourbon keeps things casual with a sleek wraparound bar and a lounge where snug booths and high-top tables are available sans reservations.
Why we love it: The menu sticks to tried-and-true standards: a crisp wedge salad, a tuna tartare that's finished tableside, and myriad cuts of prime Angus beef and wagyu. Don't overlook the burger, which pairs perfectly with the free (and unlimited!) duck-fat fries, served in lieu of the usual bread basket.
22. El Bagel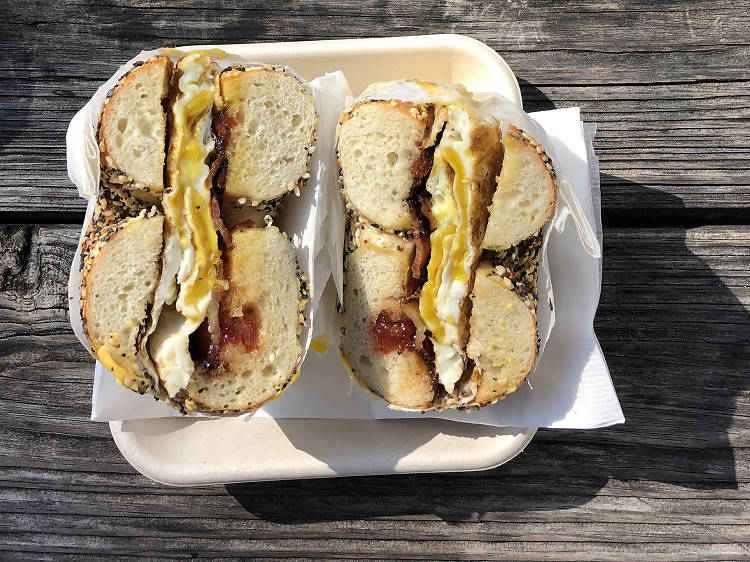 What is it? Its smash-hit food truck was a favorite among those whose preferred Saturday morning activity was waiting in line for food. Now El Bagel's brick-and-mortar is the chosen bagel spot of people with incredible patience.
Why we love it: Takeout at this small MiMo shop can take up to two hours but no one craving an oversize, NYC-style hand-rolled bagel can resist. The B.E.C. with Proper Sausages bacon, egg, and cheese and the avo smash with a mound of fresh sprouts are day-one favorites you can still get at the shop.
23. NIU Kitchen x Arson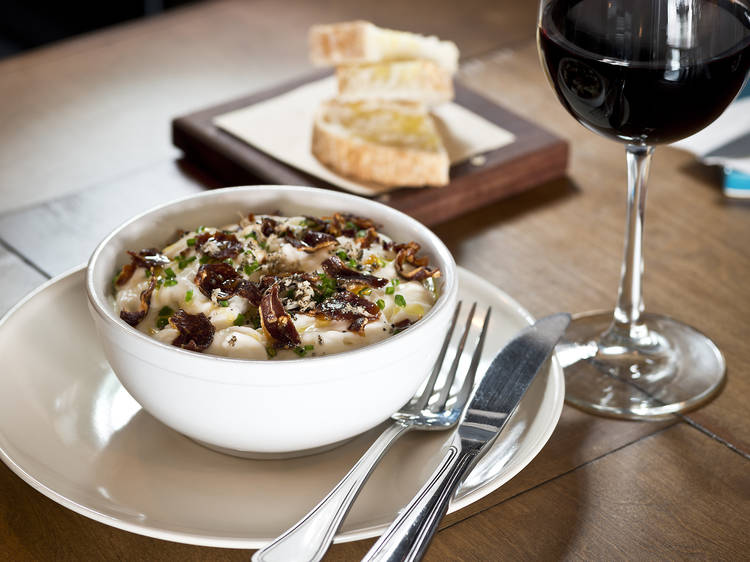 What is it? NIU Kitchen chef Deme Lomas and wine director Karina Iglesias's Catalonian gem is located deep in Downtown Miami. The compact restaurant outgrew its original location and has since expanded next door to sister property, Arson, where diners can enjoy the best of both menus in a more comfortable setting.
Why we love it: There's a seasonal lineup of bold tapas and flame-grilled mains, like the delicate branzino tartare served with a white garlic soup and pan-seared foie over honey bread and fruit. While delicious pa amb tomàquet (the traditional rustic bread with vine-ripened tomatoes, olive oil and salt), bottles of natural wines and something starring a running yolk like the ous—a creamy bowl of poached eggs, truffled potato foam, jamón ibérico and black truffle—are always a given.
24. Joe's Take Away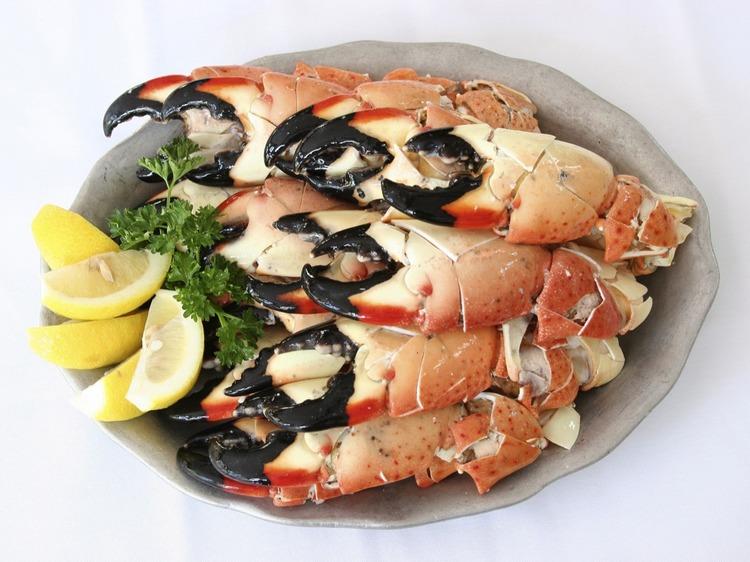 What is it? The take-out market next to iconic Joe's Stone Crab in South Beach.
Why we love it: This must be the best-kept secret in South Beach (at least in terms of value). Though widely known for its insanely inexpensive fried chicken, it also serves the coveted crustacean, lobster sandwiches that'll put the Maine ones to shame and slices of Joe's irresistible key lime pie.
Time Out tip: Most people take their bounty to the nearby South Pointe Park to enjoy.
25. Sanguich de Miami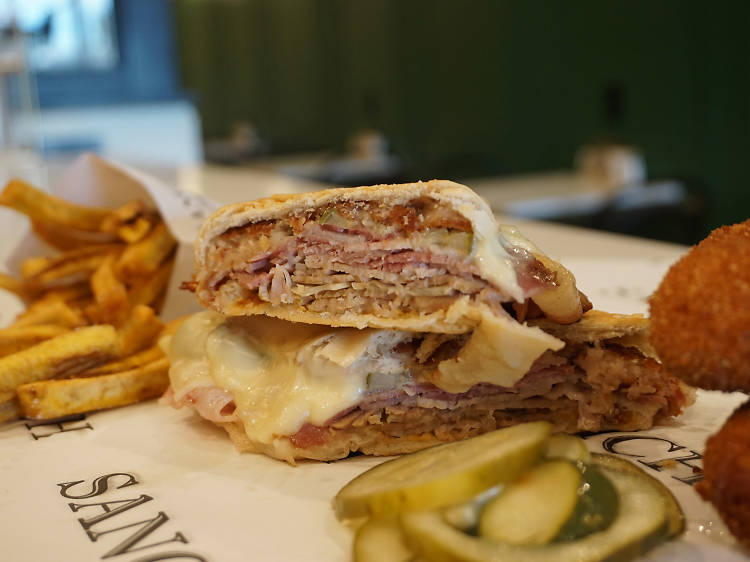 What is it? A modern take on a Cuban cafeteria, this Little Havana counter sells pressed sandwiches, croquetas and a handful of hearty, quick bites.
Why we love it: Sanguich infuses the proud Cubano with house-made ingredients, such as cured ham, brined pork, fresh pickles and artisanal mustard. (Hell, even the doughy bread is made to Sanguich's strict specifications.) Obviously, the best Cubano in Miami resides here. Plus, its Cuban version of nachos—with fried plantain strips and garlic aioli sauce—is utterly out of this world.
Written and published by TIME OUT Magazine