'One Island Drive' With Two Towers Designed By Kohn Pedersen Fox, Set To Soar Over 800 Feet On Brickell Key
Swire Properties has recently made an exhilarating announcement, unveiling initial information about an exceptional project called One Island Drive. This remarkable endeavor harmoniously integrates residential and hospitality services within a serene island setting, conveniently located near the vibrant downtown of Miami. Boasting an enviable waterfront position, One Island Drive is poised to claim a prestigious spot in Swire Properties' illustrious portfolio while becoming a prominent and distinguished addition to Miami's captivating skyline.
Nestled at the southernmost tip of Brickell Key, One Island Drive finds its place within the meticulously crafted island community meticulously developed by Swire Properties for over four decades. This exceptional project is poised to transform into a serene oasis, boasting two remarkable towers that engage in a captivating architectural conversation. Each tower boasts a distinctive design language, diverging from the conventional Miami skyline to create a visually striking ensemble that harmoniously coexists.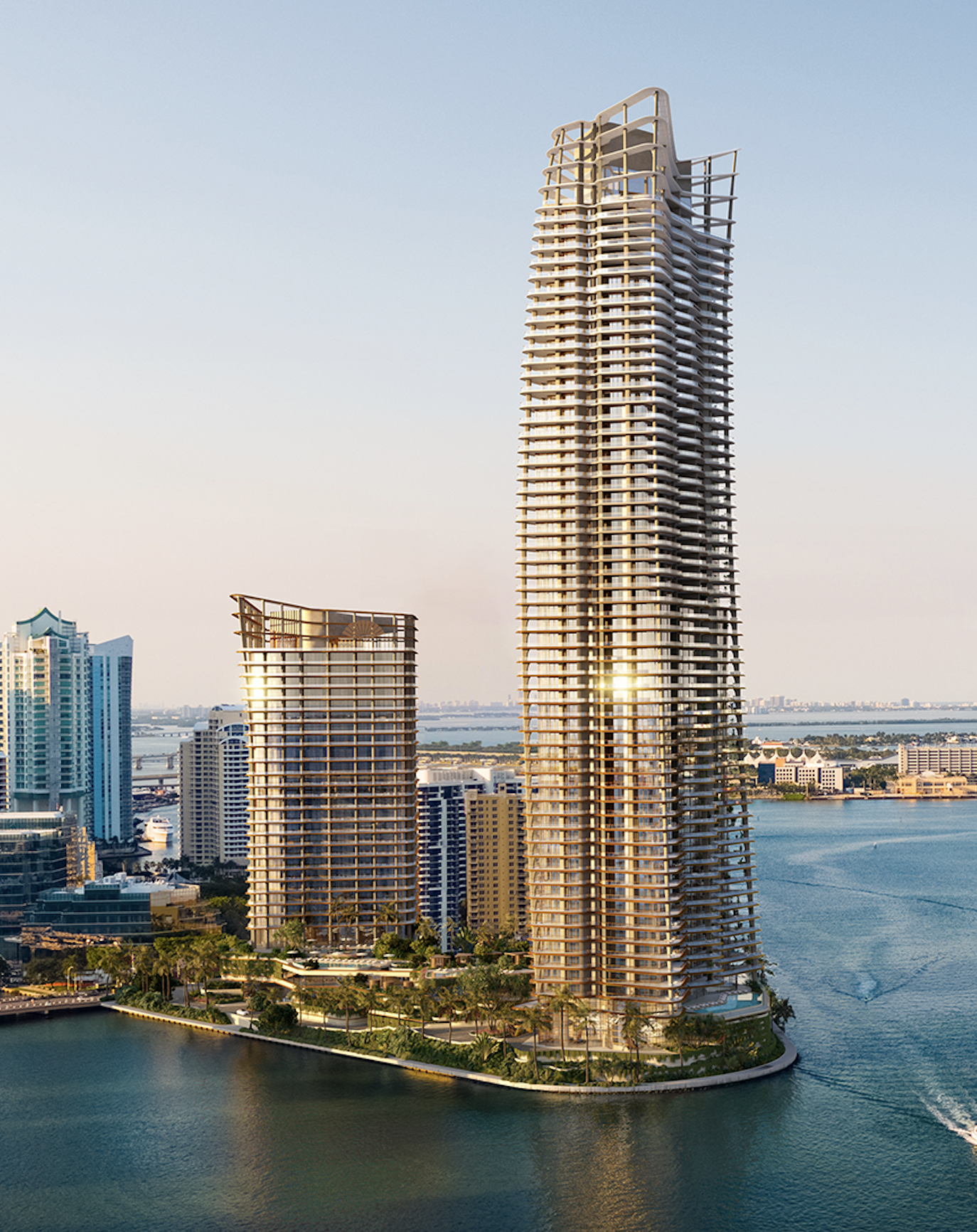 The primary tower, soaring impressively to a height surpassing 800 feet, is home to 'The Residences at Mandarin Oriental, Miami.' Embracing the daring essence of deconstructivist architecture, this tower exudes a captivating allure. Its exterior showcases a captivating interplay of subtle curves, resulting in a visually intricate aesthetic. The textured shell superstructure of the tower serves as an architectural marvel, with exposed columns and slabs creating a distinctive curvilinear silhouette. Adding to its visual impact on the skyline, the tower culminates in an undulating and punctuated skeletal crown. Within this tower reside The Residences, an exclusive collection of 220 private homes ranging from two to four bedrooms. These homes boast expansive floorplans of up to 4,700 square feet, with the crown jewels being two extraordinary duplex penthouses, sprawling over 6,000 square feet each.
In contrast, the second tower gracefully rises to a height of around 400 feet, seamlessly harmonizing with its counterpart through a more understated design approach. Though characterized by a uniform and streamlined structural shell, it exudes its own captivating allure. Within this tower, the highly anticipated North American Mandarin Oriental hotel will find its home, showcasing a distinct sloping crown that adds a striking contrast to the Miami skyline. The tower will accommodate 151 guest rooms, as well as 61 private residences and 28 hotel residences, each exuding an essence of refined elegance and sophistication.
Within both towers, a deliberate architectural choice is made to recess the glass exterior from the shell, creating a captivating interplay of light and shadow. Bands of glass gracefully traverse the continuous curvilinear balconies that envelop the structures, adding an element of elegance and visual allure. This meticulous design nuance enhances the unique texture and overall aesthetic of the buildings. Such attention to detail exemplifies Swire Properties' dedication to innovative architecture, cultivating a cohesive yet undeniably distinctive vision for One Island Drive.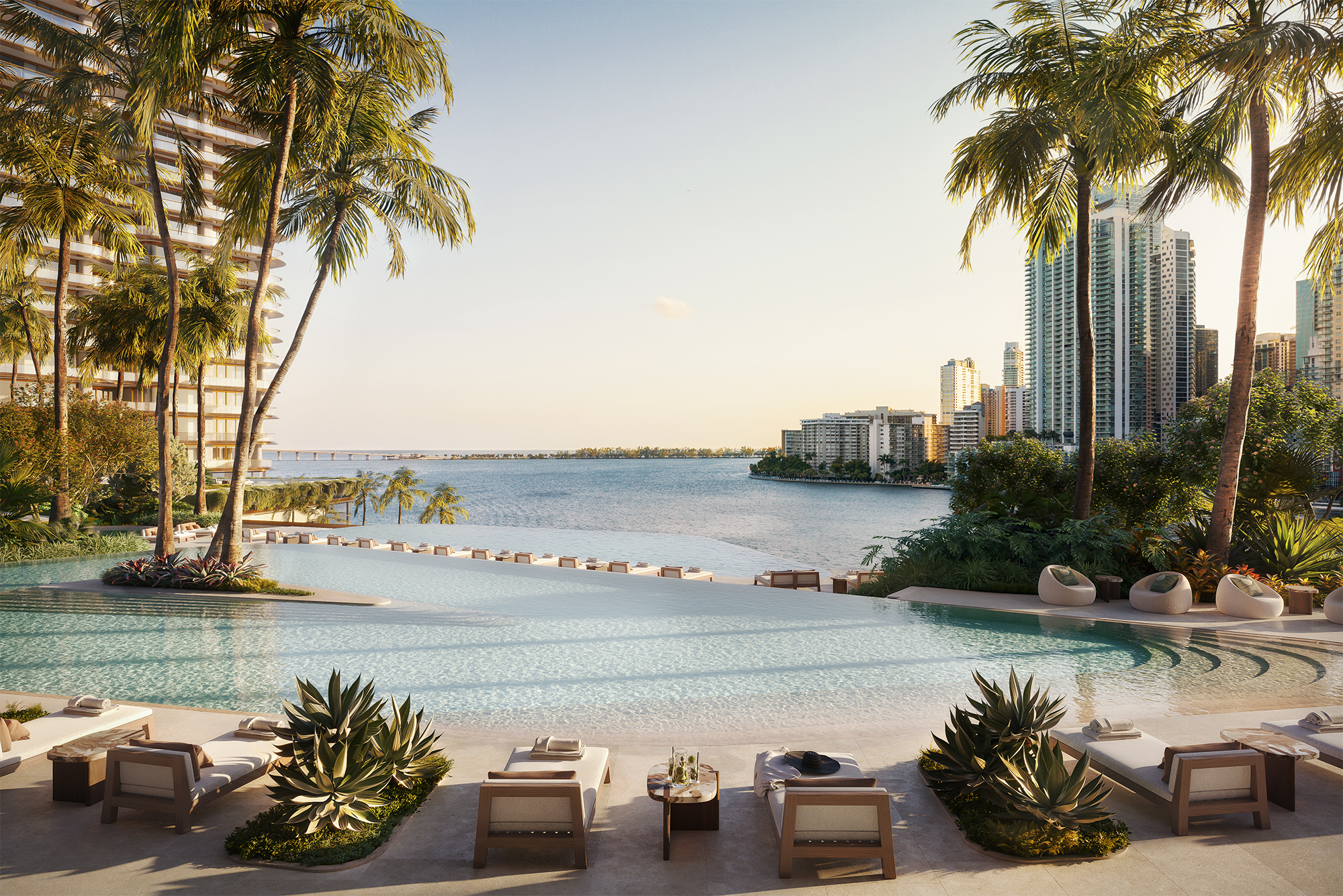 Swire Properties has been headquartered in Miami for over 40 years, and in that time, we are proud to have transformed Brickell Key into one of the most sought-after locations in the city. With One Island Drive, we have taken the last prime waterfront site and created an island sanctuary that will be a destination for connoisseurs of luxurious design, intuitive service, and meticulous craftsmanship. Destined to become Miami's most coveted condominium address, One Island Drive pairs intricately designed interiors with expansive private outdoor spaces that offer unmatched views of Biscayne Bay and the glittering skyline. With all the glamour and excitement of Miami, including convenient access to the city, One Island Drive offers the ultimate privacy for residents and guests. Surrounded by natural beauty, sparkling waters, and majestic vistas, there is no other location in Miami that provides what we are creating at One Island Drive," said Henry Bott, President of Swire Properties Inc.
Providing breathtaking panoramic vistas of Biscayne Bay, each tower will be seamlessly connected by an expansive podium designed as a resort-style haven. Spanning over 100,000 square feet, this remarkable space will house unparalleled amenities that redefine luxury living. Among the offerings are multi-tiered, landscaped infinity swimming pools that effortlessly blend the boundaries between land and sea. The podium will also feature private cabanas, executive work lounges, and private dining rooms equipped with chef kitchens, catering to the discerning residents' desires. World-class restaurants, a signature spa, and state-of-the-art health and wellness facilities will further elevate the living experience. Envisioned as a tropical paradise, the development will abound in lush greenery, forming a natural canopy of vibrant colors and textures. Additionally, it will extend the beloved Brickell Key Baywalk, inviting residents to immerse themselves in the surrounding natural beauty.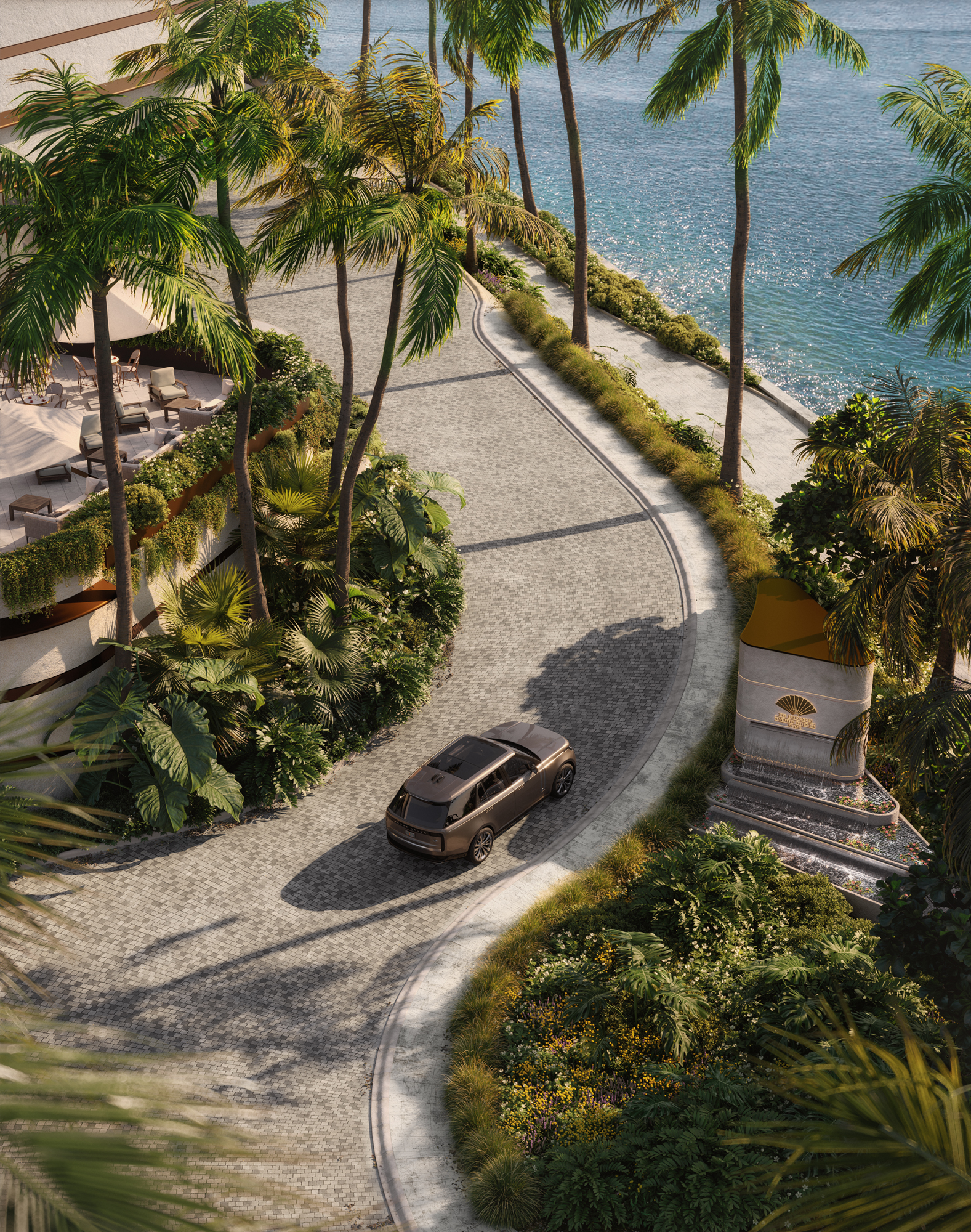 One Island Drive will stand as an embodiment of refined luxury along the waterfront, representing an unprecedented collaboration brought to life by a globally acclaimed design team, each at the vanguard of their respective domains. Kohn Pederson Fox Associates (KPF) will shape the visionary exterior architecture, redefining the city's skyline with their bold and innovative designs. Parisian designer Tristan Auer will infuse his discerning aesthetic vision into the interiors of The Residences, elevating them to new levels of elegance and sophistication. Meanwhile, the hotel interiors will be crafted by Laura Gonzalez, an esteemed Parisian designer recognized in the AD 100 and Elle Décor A-List. Lastly, the landscape architecture will be masterfully executed by the renowned Thai firm Shma, ensuring a harmonious integration of nature and urbanity. Notably, this marks the first foray into the United States for Auer, Gonzalez, and Shma, signifying the significance of this exceptional project.
"We are delighted to carry on our longstanding relationship with Swire Properties as we embark on our second iteration of outstanding hospitality within Miami," said James Riley, CEO Mandarin Oriental Hotel Group. "Twenty-three years ago, Swire and Mandarin Oriental Hotel Group joined forces to open Mandarin Oriental, Miami, forever elevating the level of hospitality in the destination. With One Island Drive we will do it again, offering residents and hotel guests the highest level of service, accommodation, and luxury amenities, all of which are synonymous with the Mandarin Oriental brand."
One Island Drive stands as a momentous residential development, marking the first new property to grace Brickell Key in the last 15 years. It presents a unique and final opportunity to own a brand-new residence on this coveted island. The pricing for these exceptional homes is set to commence at $3,500,000, with sales expected to commence in late 2023. Don't miss the chance to be a part of this extraordinary residential offering.
Swire Properties has been a pioneering force in shaping the Brickell neighborhood, establishing a new focal point in Miami through the remarkable development of Brickell City Centre. This transformative mixed-use project, boasting a staggering $1 billion investment and spanning over 4.9 million square feet, has redefined the landscape of the area. Situated just across the causeway from One Island Drive, Brickell City Centre stands as a testament to Swire Properties' commitment to creating vibrant and thriving urban environments.