It's boom time in South Florida.
In downtown Miami, ground is being cleared for Florida's tallest office tower, with 1.5 million square feet to be filled by firms that have, yet, no actual presence in the state.
Condo towers branded as St. Regis and Waldorf-Astoria are also planned for the area. Their completion is years away, but their unbuilt units are largely claimed with buyer deposits.
The same thing further north in West Palm Beach, where the arrival of financial giants such as Goldman Sachs and Blackrock sent office rents to a record high during the second quarter of this year. Now, new workplaces with private terraces and access to yacht charters are rising along the city's waterfront, while builders plan condos for those future employees.
We've got four or five thousand people coming to West Palm Beach who have not yet arrived," said Nick Bienstock, CEO of New York City office landlord Savanna. Eager for a share of that market, Savanna is now making its first Florida investment, a 275-unit condo called Olara — part of the 3,000 new homes now under development across West Palm Beach.
More than three years into a mass migration of both money and people to the Sunshine State, Florida's property market continues to outperform nearly all of the rest of the US. What began as a warm-weather haven from pandemic restrictions, has turned into a place not only catering to the current influx of professionals but doubling down on the premise that even more are still to come.
The 275-unit condo concept Olara is part of the 3,000 new homes now under development across West Palm Beach. Credit: Binyan Studios
"The old, 1980s Florida is disappearing," said Ken H. Johnson, a housing economist with Florida Atlantic University's College of Business. "We're just not getting those retirement-community, fixed-income folks we used to. We're getting people with significant incomes and they're usually bringing in work and jobs with them."
Indeed, Florida is the No. 1 destination for professionals aged 25 to 36 earning at least $200,000, according to a recent report by financial advisory SmartAsset.
Most crucially, high-earners arriving in Florida have outnumbered those departing by over three-to-one in recent years. And along with youth and jobs, the newcomers are coming with cash, snapping up homes in a state that doesn't have nearly enough of them.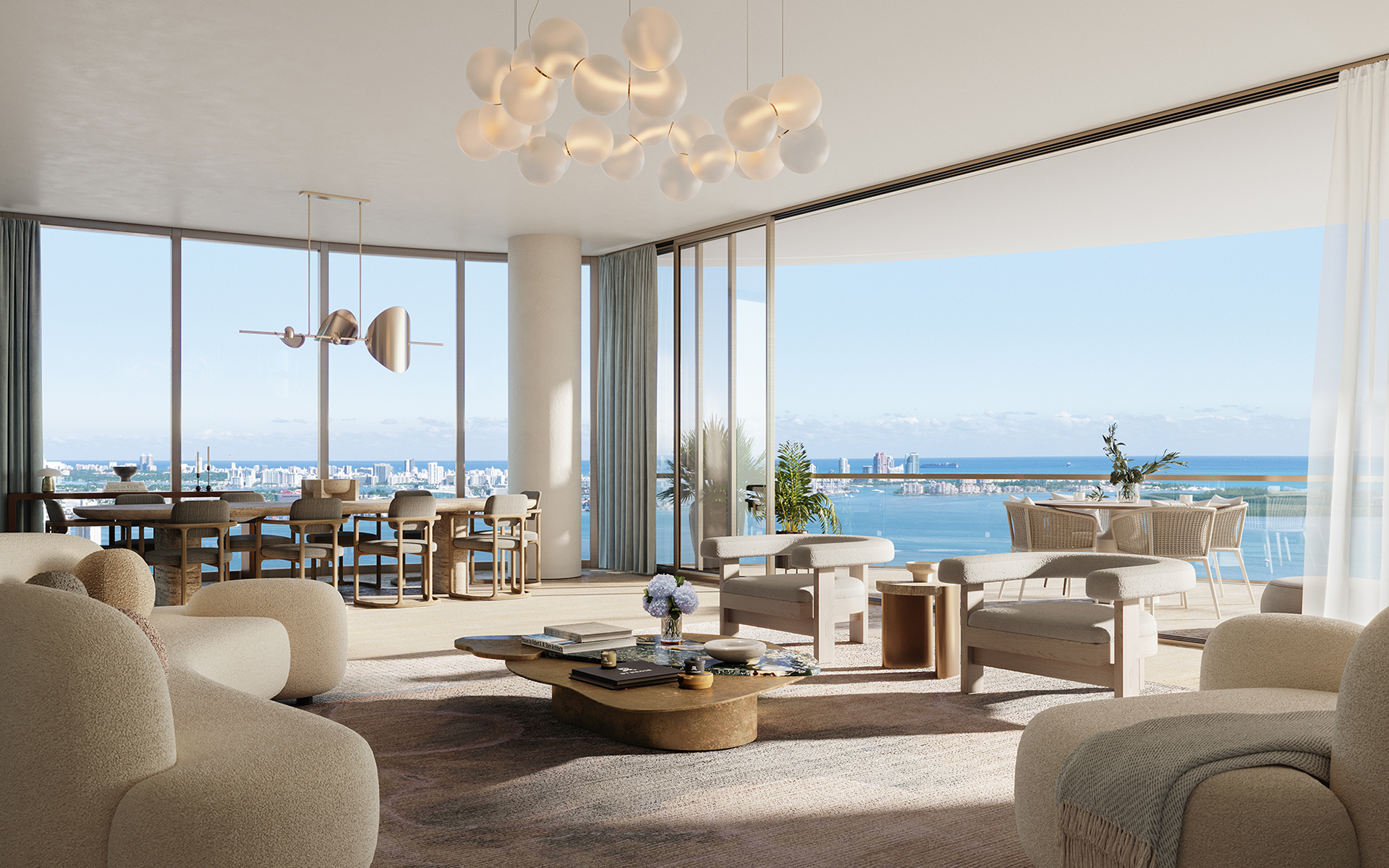 High-earners arriving to Florida have outnumbered those departing by over three-to-one in recent years, snapping up spots like this St Regis Residences Miami apartment.
The results: A market that keeps on crowning nearly every list of superlatives. Of the 10 most overpriced housing markets in the country, for instance, seven are in Florida, according to a monthly analysis co-published by Prof. Johnson. That means Florida buyers are paying the highest premiums for their homes nationwide when compared to price averages over the past 27 years. Miami's median home price rose 14.6% in August over a year earlier, according to brokerage Redfin, and 5.3% in neighboring Fort Lauderdale — where the downtown population has swelled by 80% since 2010.
The spikes arrive just as other much-hyped pandemic-era "boom-towns" endure ongoing declines: Phoenix home prices fell 2% in August, Fort Worth dropped 2.7% and Austin, which ranked dead last in Redfin's price growth list, plunged 7%. And that's the good news: These numbers follow double-digit corrections in Phoenix and Austin just a few months earlier.
"Texas is different from Florida even though both are identified as tax-free states," said Eli Beracha, director of the Hollo School of Real Estate at Florida International University. "Florida is viewed as a tropical vacation place — where you can also live. People just don't go on vacation to Dallas."
Florida received the largest in-migration of wealth in the US during the pandemic. Just in 2021, newcomers increased the state's taxable income by $39.3 billion — more than three times what second-place Texas pulled in, according to the Economic Innovation Group, a DC think tank.
Census numbers released in September suggest this growth will continue: Florida's population rose by 2.13%. — the biggest jump in the US — between 2021 and 2022.
"Florida is being reset and restructured in a way that no one else is," said Jonathan Miller, president of real estate appraisal firm Miller Samuel. What differentiates this current cycle is "that all of this is happening without a tremendous amount of [the] international demand" which fueled previous Florida housing and population booms. So what is, instead?
"New Yorkers are the new foreign buyer," said Miller, nodding to the nearly 130,000 Empire Staters who relocated to the Sunshine State in 2021 and 2022 alone.
Miami Worldcenter district is a $6 billion project spanning 10 city blocks.
Many of these new residents split their time between cities while making no-income-tax Florida their primary home, Miller added. Little wonder there's a construction boomlet of furnished Miami condos designed so owners can easily rent them while they're away.
Florida has obvious appeal for northerners. Fed up with big-city crime and quality of life deficiencies — and lured by those tax benefits and beachy home offices — the state provides a ready-made solution to many of urban America's most serious ills. "It's just a different way people are choosing to live and Miami is a big beneficiary of that," said Nitin Motwani, managing partner of Miami Worldcenter Associates, master developer of the 27-acre Miami Worldcenter district, a $6 billion project spanning 10 city blocks.
Motwani says he regularly fields calls from executives asking for logistical help on making a move south. "Sometimes it's just things like 'Where should we look?'" Motwani said. "Other times, it's to talk about talent, or 'Can you connect me with another C-suite person who moved?"
The advice is much-needed: According to media reports this year, top Miami-area schools have become so crowded that billionaire newcomers are literally writing multimillion "charity" checks to ensure places for their children.
Harry Macklowe is one of several well-known New York real-estate developers breaking into the South Florida market.
By every metric, Florida's real estate market is overperforming. While that may suit investors, a lack of affordable housing has become an issue for policymakers, who are trying to incentivize the development of more reasonably priced apartments. A recent report by the Florida Policy Project reveals that over 1 million residents statewide are spending more than 50% of their income on housing. And rising homeowners insurance premiums are only making matters worse. According to a recent study by the Florida Apartment Association, Florida will need some 500,000 new housing units by 2030 to curb costs and meet future demand.